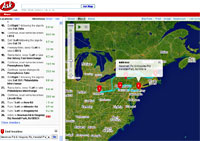 The site formerly known as Ask Jeeves has retired its long serving butler, rebranded itself as 'Ask.com' and served up a new, simplified homepage offering access to new tools like enhanced maps, driving directions, encyclopaedia search and a Web-based desktop search.
With the butler now booted off the homepage, ask.com presents a simple, Google-like interface with a text search box and a collapsible, customisable sidebar with shortcuts to 10 default search tools including maps, bloglines, images, weather, dictionary and weather.
New map features galore (if you're in the US)
Ask.com says that the map search service has been considerably improved, employing the new AJAX-based technology to let users add new locations (pins) on the map, and then move the pins around on the map to get instantly updated walking or driving directions.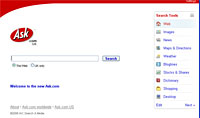 Aerial photos can also be overlaid or combined with regular street views, with the option to print aerial shots for a fee.
After several minutes frantically looking for some pin-pushing, drag'n'drop action of our own, we realised that it's not for the likes of us Brits and all the groovy functionality is reserved for US maps only.
Were we impressed? Not at all.
And as if to wind us up a bit further, we then discovered that ask.com's much-touted new encyclopedia search function was also noticeable by its absence on the UK homepage, as was the local search function.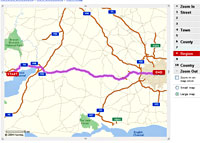 Here's an idea Ask.com – how about you include a help file to explain this to users, or, even better, give us the same goodies too?
Keeping it simple
In an attempt to stand out from a highly competitive (and Google dominated) market, Ask executives are aiming to provide a super-clean interface with fewer ads and editorial results displayed above advertisements.
"We want to get the message out that Ask.com is a serious alternative to any search engine out there," said Daniel Read, vice president of consumer products at Ask.com.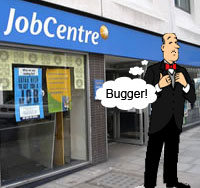 Old Danny boy's got his work cut out for him as Ask Jeeves has remained the least used among the largest search engines, way behind market leaders Google who currently hog an estimated 40 per cent of all queries.
Trailing behind Yahoo, Microsoft, MSN and AOL, Ask Jeeves can only muster a paltry 6.5% of the market, and until we get the same advanced functionality that our US counterparts enjoy, we'll be sticking with Google, thanks.