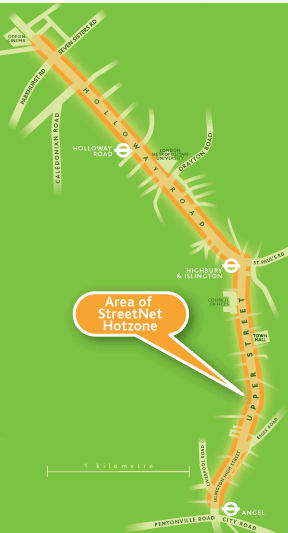 Islington's free WiFi cloud to extended well beyond the initial Technology Mile.
Back in June 2005 we covered the story that Islington Council, London, were to carry out a trial to bathe their streets with WiFi, giving free access to the Council online services and the Internet generally.
It's great to hear that they've judged the trial as a success at around 1,000 users a week, and are expanding it well beyond its original one mile Upper Street coverage.
Islington is a very strange mixture of ultra-rich city workers with bucket-loads of cash and many people from the opposite end of the wedge-world who families have lived there since it was a pretty rough area, which was only 20 years ago.
It's hugely encouraging that the extension of the free WiFi is up the Holloway Road, which generally isn't the posh end of town. Equal access to all has been a concern for some time.
They calling it a 'canyons of coverage,' which if you have to pick a name, I guess isn't too bad. The council have been working with Wi-Fi whizz's, Cityscape Cityspace, and are spreading the signal using wireless transmitters located on lampposts below the height of the buildings on either side of the street – a good idea, as electrical current is drawn from the lamp posts too.
The strange contrast to this story is the one we covered two days ago, where the City of London is going to get blanket WiFi coverage. Apart from the location (about 1 mile away), the big difference is the price of Wifi access – free vs a shocking £5/hour.