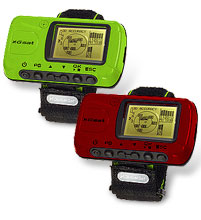 Jogging geeksters! Set your wallets to 'buy' as GlobalSat are set to release a wrist-type GPS Receiver aimed at sporty types who get their kicks from running around all over the place on foot, bike, board or ski.
The Globalsat GH-601 is a fully-sealed, waterproof box of gizmos that comes with a GPS training system capable of locating and tracking points on the map.
Calling it wristwatch-sized would be pushing a bit, but the chunky device certainly straps on the wrists of sweaty outdoor types and comes with a variety of modes to keep them moving.
The Globalsat has a large 80 x 120 pixel monochrome LCD readout and employs a SiRF Star III high performance GPS chipset and omni-directional GPS antenna.
The GPS functions let users map a location, mark a trace point, find a marked point and comes with backtrack mode and Ahead / North Direction.
A 'coach mode' nags users to keep up to predefined performance targets while 'workout projects' offer a variety of ways to keep the perspiration flowing.
Flagging, flailing users failing to meet targets can expect to be alerted by the device to get a move on, and knackered users can be reminded of their crap performance thanks to the unit's built in history.
Session information can be downloadable to PCs via a Mini-USB port, letting others laugh at your failure.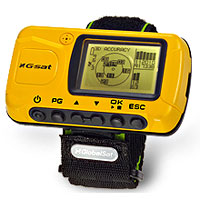 Training projects and analysis come with the bundled Windows-compatible "professional self-training" package, but Apple users can stay at home because we couldn't find any mention of Mac support.
The 602 Series also offers an electronic compass (resolution 0.6uT/count) and a barometric altimeter (15~115 kPa), and both devices can be used as GPS receiver on PCs through the USB interface.
Powered by a rechargeable lithium-ion cell, battery life is claimed at 16 hours with GPS on, and the thing comes in a variety of 'outdoor' colours for cutting a dash on the slopes.
Specifications:
Item: GH-601, GH-602
Number of Waypoints: 100
Display Size: 24.9 x 39.88 (H x W in mm.)
Display type: Black & White LCD
Pixels (H x W): 80 x 120
Unit Weight: 72.87g
Waterproof Standard: IPX7
Unit Size: 46 x 82.5 x 18.5 (H x W x D in mm.)
Backlit Display:Single level
Operating temperature: -20 °C to 60 °C
Humidity: 5% to 95% Non-condensing
Voltage: 3.7V for a rechargeable battery, 5V for charging input
Charging connector: DC 5V
Battery: Rechargeable 1600mAh Li-ion battery
Battery life: 16 hours (GPS turn-on; Compass and Altimeter turn-off)70 hours (GPS, Compass and Altimeter turn-off)
Connect to PC Interface: Mini-USB port
Electrical compass: GH-601, no; GH-602, yes
Barometric Altimeter: GH-601, no; GH-602, yes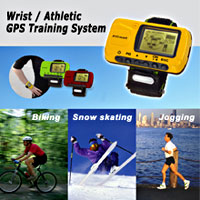 GPS Parameters
GPS Chipset: SiRF Star III
Frequency: L1, 1575.42 MHz
C/A code: 1.023 MHz chip rate
Channels: 20 channel all-in-view tracking
Antenna Type: Built-in patch antenna
Position: 10 meters, 2D RMS 5 meters, 2D RMS, WAAS enabled
Velocity: 0.1 m/s
Time:1 us synchronized to GPS time
Default datum: WGS-84
Reacquisition: 0.1 sec., average
Hot start: 1 sec., average
Warm start: 38 sec., average
Cold start: 42 sec., average
Altitude: 18,000 meters (60,000 feet) max.
Velocity: 515 meters/ second (1000 knots) max.
Acceleration: Less than 4g
Jerk: 20 m/sec3
Physical properties
Top Cover: PC with TPR
Bottom Cover: PC
Wrist Strap: Weaved cloth
Waterproof Stopper: TPEE
LCD Faceplate: Acrylic