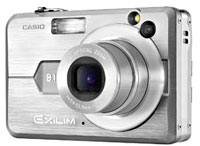 A shiny new 8 megapixel digital camera has just rolled of Casio's well-used photographic slipway, the Exilim Zoom EX-Z850.
The EX-Z850 offers 8.1 megapixel photos, a 3x optical zoom with both manual aperture and shutter speed priority AE options for advanced users who aren't afraid to delve about with exposure options.
There's a sizeable 2.5″ Super Bright 115k pixels LCD onboard and the EX-Z850 includes the latest version of the EXILIM Engine, featuring the software-based Anti Shake DSP to reduce the risk of blurred shots.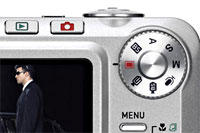 Although effective, this is never as good as a proper optical stabilisation system, and relies on ramping up the ISO and shutter speed to freeze action – so you often get sharp pictures at the expense of increased image noise.
Operation looks to be pretty fast, with the Casio boasting a one-second power up, 0.005 second shutter lag and high-speed picture playback of approximately 0.1 seconds interval.
An intriguing Zoom Continuous Shutter feature creates a "shot within a shot", with the user selecting an area of an image to zoom into and the camera then taking two images with a single press of the shutter.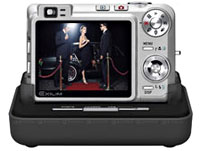 We're not quite sure what that means or how the effect is achieved, but we hope it doesn't involve digital zoom.
The camera's got a decent battery life capable of notching up 440 shots on a single charge, with the camera sporting three new flash functions:
Rapid Flash blasts out three flash photos in only one second, Soft Flash prevents overexposure of subjects photographed up close and High Power Flash reckons that it can illuminate subjects up to 12.1 metres away.
Casio have also included its Revive Shot, which claims to "refresh faded colours of old photos by bringing them back to life in digital format."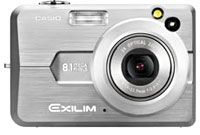 Apparently it does this by "automatically adjusting for obliquity even when photos are shot while still in the album" – whatever that means.
The camera looks nice enough but without proper optical stabilisation and extended ISO performance, we reckon Casio are going to have to offer a really competitive price to make this one stand out from the pack.
EX-Z850 SPECIFICATIONS
Sensor 1/1.8 " Type CCD, 8.1 million effective pixels
Image sizes 3264 x 2448, 3264 x 2176 (3:2), 2816 x 2112, 2304 x 1728, 1600 x 1200, 640 x 480
Movie clips 640 x 480, 320 x 240
File formats Still: JPEG (Exif 2.2)
Movie: AVI (MPEG-4)
Lens 38-114mm equiv, F2.8-5.1, 3x optical zoom
Image stabilization Anti Shake DSPDigital zoom up tO 8x
Focus Contrast type AF (selectable between spot, multi), 9-point Multi AF
Exposure Modes Program AE, Shutter Priority AE, Aperture Priority AE
Focus Macro mode, Infinity mode, Pan focus, Manual focus
AF assist lamp Yes
Focus distance Normal: 40cm to infinity, Macro: 10 to 50cm, Manual: 10cm to infinity
Metering Multi-pattern, Centre weighted, Spot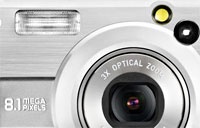 ISO sensitivity Auto (Max ISO1600 when using 'Anti-Shake' or' High Sensitivity' BEST SHOT modes)ISO50, ISO100, ISO200, ISO400
Exposure compensation +/-2EV in 1/3 EV steps
Shutter speed
Program AE: 1/2 to 1/1600 sec
Shutter Speed Priority and Manual Exposure AE: 60 to 1/1600 sec
Aperture Priority AE: 1 to 1/1600 sec
Aperture
Program and Shutter Speed Priority AE: F2.8-8.0 (Autoswitching)
Manual Exposure and Aperture Priority AE: F2.8/4.0 (Autoswitching)
Connectivity USB 2.0
Storage 8MB internal memory, SD / MMC compatible
Power NP-40 Lithium-ion rechargeable battery
Weight (no batt) 130 g
Dimensions 89 x 58.5 x 23.7 mm