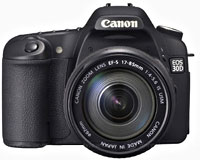 Canon have unleashed a veritable avalanche of new cameras today, with no less than ten new models being announced ahead of the PMA 2006 show.
Canon EOS 30D
Top of the pile is the 8.2 megapixel Canon EOS 30D, which is something of a minor tweak of the EOS 20D, offering a slight body redesign, 3.5% spot metering, selectable continuous shooting speed, 100,000 shutter cycle life and a larger LCD monitor.
Sporting a wide 100-3200 ISO range, the camera offers the same sensor and image processor as the EOS 20D but comes in at a slightly lower price than its predecessor (EOS 30D body only, €1,399, £955)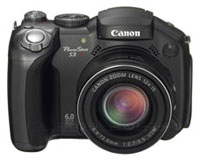 Canon PowerShot S3 IS
Next up is Canon's third generation 'super zoom' compact, the 6-megapixel PowerShot S3 IS.
The successor to the popular S2 IS, the camera offers the same monster 12x optical zoom, with new features including a larger 2.0-inch vari-angle screen and an increased sensitivity range going up to ISO 800.
Decked out in a mean looking gunmetal gray, the PowerShot S3 IS digital camera will be available in May for an estimated selling price of $499.99 (~£286, €420).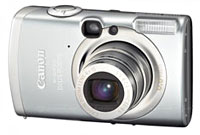 Canon PowerShot SD700 IS Digital ELPH (European name: IXUS 800 IS)
Proudly touted as the new flagship of the range, the 6 million pixel Canon PowerShot SD700 IS comes with an optical Image Stabiliser, a 4x optical zoom, ISO range up to 800 and a large 2.5-inch LCD.
This is the first ever ultra-compact from Canon to feature built-in image stabilisation, and with a host of auto, scene and manual modes looks to be a very versatile camera.
The camera will be available in April for an estimated selling price of $499.99 (~£286, €420).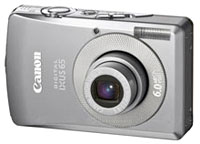 Canon PowerShot SD600 and SD630 (European name: Canon Digital IXUS 60 / IXUS 65)
Looking down the range, Canon have rolled out two more additions to their Digital ELPH / Digital IXUS range, the PowerShot SD600 and SD630 cameras.
Both these 6-megapixel cameras feature a 3x optical zoom and High ISO Auto and ISO 800 settings and seem identical apart from the lack of an optical viewfinder and bigger 3.0 inch LCD screen on the SD630.
The SD600 comes with a smaller 2.5-inch screen and will be available in March for around $349.99 (~£200, €295). The PowerShot will be available in April for an estimated selling price of $399.99 (~£230, €336).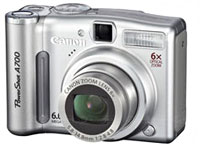 Canon Powershots A700 and A540
Turbo-boosting its 'A' series range of compacts with gusto, Canon has announced no less than five new models.
Keen photographers might like the look of the PowerShot A700 and A540 cameras which offer 6 million pixels, full photographic control, 2.5-inch screens and the option to add conversion lenses.
The $349.99 A700 comes with a substantial 6x optical zoom, optical viewfinder and ISO sensitivity up to ISO 800, while the $299.99 A540 offers a 4x optical zoom, viewfinder and ISO 800.
Both should be available in March.
Canon PowerShots A420, A430 and A530
Taking the lift down to the bargain basement, we find three new entry level cameras, the Canon PowerShots A420, A430 and A530, all sporting a 1.8-inch screen and optical viewfinder.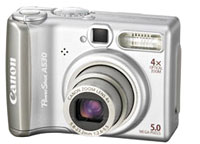 The 4-megapixel A420 serves up a 3.2x zoom and 5-point AiAF auto focus, the 4-megapixel A430 has a 4x optical zoom and 9-point AiAF auto focus while the A530 ramps up the resolution to 5 million pixels, a 4x zoom and ISO 800.
Did we ever mention that we think DPReview is great?