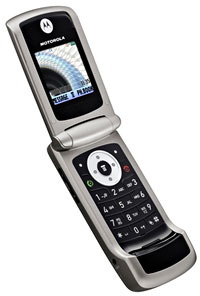 Motorola has unveiled their new, mass-market Motorola W220 phone at the 3GSM conference in Barcelona, Spain.
Using the hugely popular – and expensive – RAZR clamshell phone as inspiration, the handset offers the same super-slim factor form but with a lot of the goodies taken out.
Designed with the goal of "connecting the next billion" handset users, the highly affordable W220 comes with a basic feature set including an FM radio (but no MP3 capability we could find), a 600-entry phonebook and a 128×128 pixel colour screen.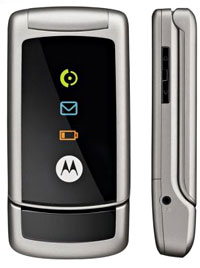 There's no external display for caller ID purposes, with Motorola instead offering a simple set of three icons on the outer fascia displaying call status, message status, and battery remaining.
Targeted at emerging markets, the phone is a pretty lightweight affair – just 93 grams – with Motorola claiming a hugely impressive 497 minutes of talk and 293 hours of standby.
Other features on the Motorola W220 include a WAP 2.0 compliant browser, alarm clock, MMS, SMS and NSM messaging services and the ability to download the all-important wallpapers, ringtones and games.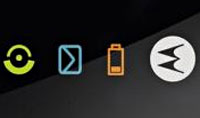 With such a slender feature set, we expect the W220 to be offered for next to nowt for contract deals sometime in Q3 2006.
Things have been somewhat quiet for Motorola at the 3GSM conference so far, leading pundits to anticipate big things at CTIA cell phone trade show in Las Vegas, from April 5-7 in Las Vegas. As ever, we'll keep you posted.