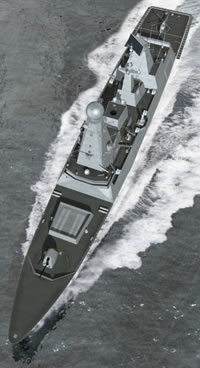 You may have heard about yesterdays launching of the latest UK warship – HMS Darling (its ninth incarnation), a Type 45 Destroyer.
Now this is a serious bit of kit, that not only costs about £605m, but is 150-metres long and is a hefty 7,350 tonnes
We happened to hear the launching ceremony on the radio, and the reporter was fairly stunned by its pace down the runway into the water. Luckily there was over 160-tonnes of chains on each side of the ship to make sure it didn't bash into the other side.
The constructors are putting it about that the the Principal Anti-Air Missile System (PAAMS to those in the know) "can trace and destroy hostile objects as small a cricket ball travelling at three times the speed of sound. Its range is effective over a radius of several hundred miles." Which I'm sure is reassuring when you're floating around in the middle of an ocean on a bit of metal, and people are throwing things at you, you rather they didn't. The summary – don't mess.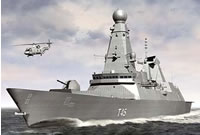 As well as all of the killing parts, it's also got a cuddly side, which frankly is the side that interests us more. The 230 crew will be treated quite unlike any other Navy.
Not only will the accommodation be individual cabins, in the "Hotel Facilities", but each of them will have an I-pod charging point, CD player, internet access and a five channel recreational audio.
The potentially embarrassing thing about the audio tech on board is that, when this monster is fully commissioned in 2009, it's highly likely that both the iPod and its charging point will have been superseded and that the CD payer will be of very little use too.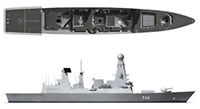 If you're interested in buying one, do let BAE Systems know that you saw it on Digital-Lifestyles, and we'll hopefully get a referral payment.
If you're interested in the technology on board, there's a fair bit of detail at Darling.org.uk, as well as the Royal Navy's own site, and the dedicated site on the via)