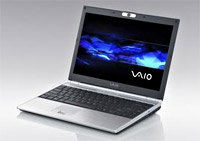 Sony has announced the Japanese release of two new laptops featuring the Intel Duo Core processor.
SZ series
First up is the new ultraportable SZ series, an attractive looking fella which follows Sony's tradition of stylish design and portability.
Throbbing inside the svelte casing is Intel's new Duo Core CPU (1.66GHz – 2.16GHz), feeding a 13.3-inch widescreen display.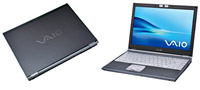 The new super-skinny SZ series (0.9″ wide) comes with either a 945GM Express or the GeForce Go 7400 graphics card which offers an unusual SPEED/STAMINA switch.
As the name suggests, frantic fraggers and heavy graphics users can go for the maximum pixel shifting power of the SPEED setting, while stately spreadsheet shufflers keen to maximise battery life will select the STAMINA option.
With high-quality aluminium and carbon fibre casing, the laptop should be able to take the daily knocks, with the "VAIO hard-disk protection" mechanism onboard to protect data from accidental bumps.
The fully-featured laptop also comes with suit-pleasing features like integrated EDGE radio, biometric fingerprint sensor and built in mic and camera for video-conferencing.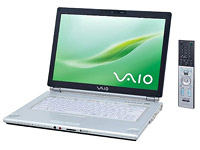 Sony F TV Series
Aimed at the home entertainment/multimedia market, the F TV series laptops ship with a built-in TV tuner, generous 15.4″ (WXGA 1280 x 800) screen and a capacious 160GB hard drive.
Sporting impressive minimum specs – 1.66GHz Intel Duo Core CPU, a dual-layer DVD burner, and MPEG card for recording TV to the hard drive – the F TV series runs on Windows XP Pro (and not, noticeably, Windows Media Centre).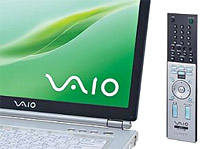 According to Sony Japan's website, the laptops will be available in a range of configurations and made available in Japan over the next few weeks.
There's no news of a UK release yet. Now, there's a surprise … and frankly a disapointment.