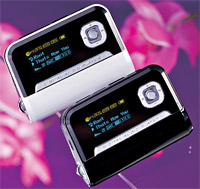 MobiBlu's soon-to-be-released DAH-1900 MP3 Player (256mb/512mb/1gb) claims to have the longest battery life of any MP3 player in the entire known universe.
With a curious promotional shot that sees the DAH-1900 perched perilously on a whisky glass, the MP3 Player offers a staggering 153 hours on a single battery charge – nearly an entire week of non-stop playing!
For reasons best known to themselves, MobiBlu have nicknamed the device the "B153" in an attempt to big up the phenomenal battery life offered by the built-in li-ion battery. But we're going to stick with 'DAH-1900.'
To help conserve battery life, the DAH-1900 uses an OLED (Organic LED display), with the bright yellow and blue display offering two lines of text and two rows of icons on its 128 x 64 pixel resolution screen.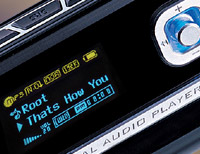 The display can be used to stream song lyrics for pub-like solo singalongs, courtesy of an editable Auto Lyric system.
Packed into its diminutive dimensions is an FM tuner and FM recorder backed by a timer function and alarm clock which can wake slumbering owners up with radio or MP3 playback.
A built in microphone lets the device double up as a voice recorder, with a Direct Encoding function offering the option to record from external sound sources, such as CD players and Walkmans.
The MP3 player supports MP3, WMA and OGG formats and Winamp/WMP M3U playlists, with six preset EQ modes serving up Normal / Rock / Jazz / Pop / Classic and Live modes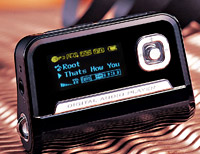 For nippy transfer of files from a PC, the DAH-1900 offers a High-Speed USB 2.0 interface at up to 40 Mbps transmission speed.
There's no European release date yet, but as it's already appeared on their North America site a worldwide release is likely some time soon.
SPECIFICATIONS
Audio formats
MP3 (mpeg 1/2-layer 2/3, 16-320kbps, WMA, 32-192kbps), WMA DRM
Built-in memory
256mb / 512mb / 1gb
Headphone output power
16 o / 15mw
FM frequency
87.50mhz ~ 108.00mhz
FM signal to noise ratio
50db
PC interface
usb 2.0
Download speed
max. 20 mbps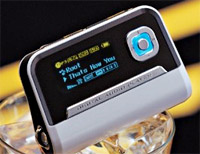 Available colours
black, white
Power supply
built-in li-ion battery
Battery life
approximately 150 hours
Dimensions
65mm x 44.5mm x 21.3mm
Pc system requirements
Microsoft Windows 2000, XP
Pentium (or Compatible) 200MHz or higher
32MB (64MB for Windows ME or 2000) main memory or higher