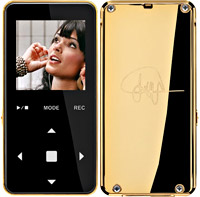 For emotionally insecure types needing the reassuring sparkle of ostentatious bling around their neck, the new gold-plated deluxe MP3 player from Jens of Sweden should be a Godsend.
No doubt playaz will make a screeching BMW-line for the 2 GB Excentrique edition of the Jens MP-500 player, which comes with a shiny 24 carat gold back, but we're more interested in the regular version of their flash-based player.
We're big fans of Jens, and have been since they started selling classy, small mp3 players, like their attention grabbing MP130, mirrored player, years back. This little baby doesn't disappoint. Served up in 1GB and 2GB flavours, the MP-500 comes in a smart, glossy black finish and sports a bright 1.6 inches TFT LCD capable of displaying 260K colours at a resolution of 128 x 128.
The pocket unruffling device (81 x 40 x 13 mm) packs a lot of functionality into its small shell, packing in video, mp3, USB-memory, dictaphone and teensy-weensy stereo speakers.
There's also a watch, alarm and FM radio with 24 automatically set stations letting users record radio programmes at preset times.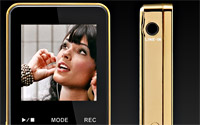 The player can also display pictures and text documents transferred over its USB port.
Jens bundles in software to convert and optimise files from all common video formats to mpeg4, and claims that 11 typical 25-minute episodes of a TV-series can be compressed on to the 1 GB-model.
Whether you'd want to watch a TV program on such a tiny screen is another matter, of course.
Jens Managing Director, Jens Nylander is, not surprisingly, positively over-flowing with praise for the product:
"Our aim has always been to make the very best and most attractive media players. Today, no product can beat the MP-500 combination of size and functions. Relaxing with an episode of The Simpsons in the bus or the metro works wonderfully well."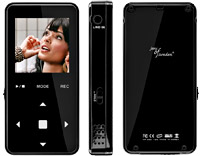 Perhaps mindful of the torrent of complaints that met Apple's super scratchy Nano player, Nylander added, "The display is sharp and the player is both smaller and more resistant to scratches or blows than hard disk-based players."
The MP-500 is available in the 1 GB (about 300 songs or six feature films) or 2 GB memory sizes for around $190 and $243 (ex VAT).
The 2 GB Excentrique-edition 24 carat gold version will retail for around $275 ex VAT.
Specifications:
Player
Memory 1GB, 2GB
Size 81 x 40 x 13 mm
Weight 51 grams
Speakers Built in stereo speakers
Microphone Built in microphone
Display
Size 1.6 inches
Type Color TFT LCD
Colors 260K Colors
Resolution 128 x 128
Audio
Sound Enhancement SRS/TRUBASS/WOW
Equalizer Normal, Classic, Jazz, Pop, Rock and 5 User EQs
ID3 Tags V1, V2
Headphone Output 10 mW + 10 mW
Speaker Output 110 mW + 110 mW
Frequency Range 20 Hz – 20 KHz
SN Ratio 90 dB (FM Radio: 50dB)
Music
File Support MP3, WMA and OGG
Bit Rate, MP3 8 Kbps – 320 Kbps (Supports VBR)
Bit Rate, WMA 32 Kbps – 192 Kbps
Bit Rate, OGG 44 Kbps – 500 Kbps (Q1 – Q10)
Video
* When converted with the provided transcoder
File Support MP4 (WMV, AVI, ASF, MPG, MPEG) *
Resolution 128 x 112
ImagesJPG
TextTXT
FM Radio
Presets 24 Auto Presets
Frequency 76 MHz – 108.0 MHz
Antenna Earphone Antenna
Battery
Type Rechargeable Li-Polymer (built-in)
Life Audio: 15.5 hours, Video: 8 hours
Charging Time 2-3 hours (30 min with charger)
Working Temperature -5C – 40C
Interface(s)
Headphones 3.5 mm Stereo Jack
Line In 3.5 mm Stereo Jack
USB
USB 2.0 HiSpeed Type B Mini Jack
USB Host USB 1.1
Requirements
O/S Windows 98SE/ME/2000/XP/2003, Mac 10.2, Linux 2.4.0 or later.