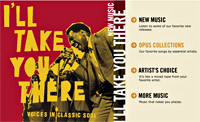 Not content with having a café on every street corner in the known universe, Starbucks has announced that it's considering expanding its entertainment business to offer a MP3 download service at their stores.
The coffee giant already offers compact disc sales and in-store CD burning, but Ken Lombard, president of Starbucks Entertainment, says that his customers are "asking for device fill-up" (do people really talk like that?) and that the company intends to "go forward and do that."
There's no firm plans yet, as Lombard went on to say that Starbucks are still talking to various companies about the technology and that a date hasn't been set for the introduction of their MP3 download service,
Starbucks – the US's biggest coffee chain – boasts 10,000 retail outlets globally and Lombard stated that their decision to get into MP3 music sales represented "perfect" timing, seeing as he believed that the music industry currently "found itself in the midst of a tremendous amount of chaos."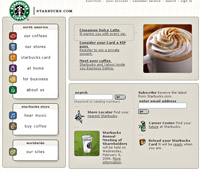 Starbucks have already stuck their espresso-scented tentacles deep into the music business and established themselves as a major CD outlet, shifting around 3.5 million CDs in their fiscal year ended 30 September.
They also co-produced Ray Charles "Genius Loves Company"album of duets, and have announced plans to promote movies and offer DVDs and soundtracks at 5,500 of their US and Canada stores.
The CD burning service will remain on offer at Starbucks coffee shops (via the in-store Hear Music outlet) with the company keen to continue striking deals to exclusively offer artists' CDs before they go on general release.
Being old punk rockers at heart, we can't imagine what could be worse than forcing fans to visit an expensive multi-national coffee shop instead of their local record shop and it seems that some retailers don't like it either.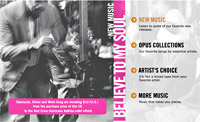 Last year, HMV Canada refused to stock Alanis Morissette's records (good move anyway, we say!) in protest at the wallet-stuffing exclusivity agreement she'd signed with Starbucks.
Of more concern to music fans is the growing influence of mainstream retailers who can wield their corporate buying power to influence record sales – and even the bands themselves – by refusing to stock records that don't appeal to their 'values.'
Way back in 1996, Sheryl Crow had her record shunted off the shelves of Wal-Mart because one of the songs contains an unflattering comment about the company's gun sales policy, and the Fugees lost all credibility by releasing a Wal-Mart friendly version of their album, 'The Score' with all the naughty words taken out.
And it's the same story at Starbucks, who recently decided that seasoned rock'n'roll veteran Bruce Springsteen's new record was too racy for their stores, refusing to stock the album because of its challenging, explicit lyrics.
If the Starbucks service takes off, we can expect more pressure on artists and record companies to conform to their wholesome values – and this can only be bad news for music fans.
Quietly oiling the wheels of his global-domination tank, Lombard also added that Starbucks will test selling books at its stores later this year.
Lord help us.