The expected has happened – Apple have unveiled their new Intel-basedMacs.
The first to appear are the iMacs boasting a dual-core Intel CPU,which are actually available to buy now. The long awaited new laptop (now calledthe MacBook Pro) will be available in Feb, but if you're really chomping at the bit, you can pre-order though AppleStores.
The Intel chip used is the Core Duo (which is an evolution of the Pentium M). The 17″ iMac comes with a 1.87GHz version and the 20″ with a perkier 2.0GHzprocessor, both with Radion X1600 graphics cards.
All bus speeds have been boosted to 667MHz and now use PCI-Express. The rest of the spec is the same as the old iMacs – as are the cases. However the new architecture gives an speed increase (on paper) of 2-3 times the current G5 equivalent.
The MacBook Pro is currently only available in a 15.4″ version, but comes witheither a 1.67GHz or 1.83GHz Core Duo. Both modelsnow have a built-in iSight (video camera) and infra-red port (with an Apple remote) so they can be used as a portable versions of the iMac.
Steve Jobs showed his confidence in the new machines and their stability by running the whole Keynote presentation on the Intel iMac's using native Intel compiled applications.
It's all about software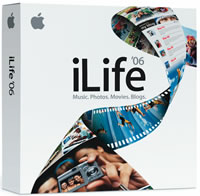 Most of the keynote was about the new version on iLife, which you won't be surprised to hear is called iLife'06. It continues to contain thestandard iTunes, iMovie HD, iDVD and GarageBand, but they've all had somemajor reworking.
With the arrival of the new Intel-chipped machines, they've all been changed to "Universal Applications," so they'll run on both Power and Intel CPUs.
There's also a new application – iWeb – designed to make publishing a Websitevery easy. It works with Apple's .Mac service (which costs money) butit's sure to attract lots of new users, getting them to create new blogs. It allows integration with iPhoto for publishing photo galleries, maintaining a blog, etc.
iPhoto has had a major upgrade, making it much faster and able to now handle libraries of up to 250,000 photos (up from 25,000). There's a host of new image manipulation features which work at the click of a button.The main new feature is Photocasting – similar to podcasts – but forphotos (again publishing needs a .Mac subscription). Anyone cansubscribe to a photocast and then have complete use of the images.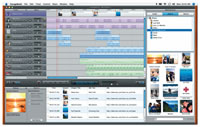 As Simon Newsflashed during the event, Garageband now supports making podcasts. It has microphone soundenhancements so the mic on a iMac or Powerbook can be used and it willautomatically reduce the background music while you're talking. In addition to this you can insert photos to make it more interesting (Mr Jobs demoed this bydoing a Inside Mac – Steve's rumours blog – which had an amusing twistto it as Apple are paranoid about info leaking out).
iMovie HD can do all sorts of animated titles and effects, exporting straight to a video iPod using the correct codecs, frame sizing, etc.
iDVD supports HD and at last external DVD burners straight from the programitself.
iWork'06 has also been upgraded – but frankly it's not that interesting.
UK Pricing (inc VAT)
15″ MacBook Pro 1.67GHz £1,429.00
15″ MacBook Pro 1.83GHz £1,779.00
17″ iMac                £  929.00
20″ iMac                £1,229.00
iLife'06 – £  55.00 (included with new Macs)
iWork'06 – £  55.00
Other mini announcements were a new iPod radio remote, iPod AVconnection kit and iPod nano lanyard in-ear phones.
Mac Book Pro
Watch Steve's latest show-off
iLife'06
iWork'06
Intel Core Duo