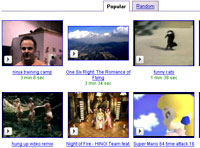 Slapping iTunes around the face with their hefty gauntlet, Google have laid down a challenge to iTunes with the announcement of their new video and television Internet service, the Google Video Store.
Announced by Google Co-founder and President Larry Page at the closing keynote address of the International Consumer Electronics Show in Las Vegas, the service will let consumers to buy and rent a wide range of video content from major TV networks, cable programmers, independent producers and film makers.
The rapidly growing catalogue will also include current and archive material from CBS, NBA, music videos from SONY BMG and news and historical content from ITN.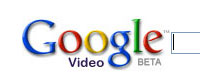 The service promises to "democratise" video sales, letting wannabe Spielbergs sell their movies on Google Video Store, with Google taking what Larry Page has described as a "very low" percentage of the sale cost.
"Google video will let you watch lots of high quality video on the Web for the first time. You can search and browse, and we make it fast and easy for you to watch," enthused Page.
"For video producers and anyone with a video camera, Google Video will give you a platform to publish to the entire Google audience in a fast, free and seamless way," he added.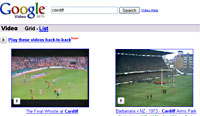 Visitors to the Google Video homepage at video.google.com will be able to shuffle through what's on offer by searching listings by category or by text search.
Content from Google Video can be viewed on Google's video player, a free download that includes a "thumbnail" navigation feature that enables users to browse through an entire video, or frames at a time, with a click of their mouse.
iPod and Sony Playstation Portable users will also be able to download and watch specially optimised versions of non-copy-protected content from Google Video.
Google Video Store will shortly be available throughout the world, although premium content will only be available for purchase in the US.