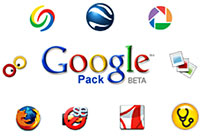 Like a pub drunk wanting to take on the entire world, Google have gone over to Microsoft's table, knocked over their pints and invited them out for a scrap.
Fresh from their beer spilling iTunes slapdown, Google are looking to move onto Microsoft's patch by offering a package of free personal computer programmes called the Google Pack.
The bumper pack of freebies will include Google's desktop search feature, the well-regarded Firefox browser, anti-virus software from Norton, Realplayer's multimedia player and Adobe Acrobat's document reader.

Marissa Mayer, VP of search products and user experience at Google commented, "The pack has been created to give users a way to painlessly install all the essential software they need – pre-configured in a sensible way – in a matter of minutes. Better yet, users don't have to keep track of software updates or new programs – we maintain and update all the software for them."
It's certainly an impressive package, containing genuinely useful programs like Adobe Reader 7, Ad-Aware SE Personal, GalleryPlayer HD Images, Google Desktop, Google Earth, Google Talk, Firefox, Norton AntiVirus 2005 Special Edition, Picasa, RealPlayer and Trillian.
The package comes with the Google Updater, which intelligently downloads, installs, maintains and updates all the software in the Google Pack.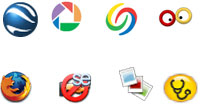 Josh Bernoff, a media and internet analyst at Forrester, a technology research company, described the move as a "direct action to challenge Microsoft," adding, "Google is saying, 'We can manage the browser and other elements of the computer-desktop experience better than you'."
Although there's nothing in the Google Pack you can't get elsewhere, by offering a unified package, Google is clearly wading into Microsoft territory – and we think things may become very interesting indeed if Google later decide to bundle in the "Open Office suite
Google Pack beta runs on Windows XP and is available at http://pack.google.com.