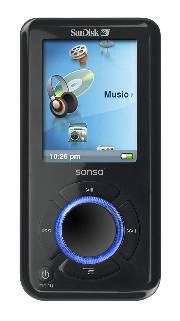 Sandisk have whipped out two iPod nano-style flash-based music players at CES 2006.
Their new Sandisk Sansa e200 series players offer up to 6BG storage and are expected to ship in the US and Europe this March
Sharing a similar styling and size to the hugely successful Apple iPod nano range, the Sansa e200 players have eaten a few more pies with a depth of 0.5-inches (1.3cm) compared to the nano's slimline 0.27-inches.
Both models sport a 1.8-inch colour screen (slightly bigger than the nano's 1.5-inch screen), with the 2GB e250 model costing $199 (~€163 ~£112), the 4GB model $249 (~€204 ~£140) and the top of the range 6GB player costing $299 (~€245 ~£168).
Not content with being 'inspired' by the nano, Sandisk also announced a line of petite flash memory music players to challenge the Apple iPod shuffle, although the Sansa c100 series players ship with colour screens.
Pricing is $119 (1GB) (~€97 ~£67) or $169 (2GB) (~€138 ~£95).