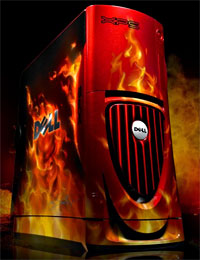 Clearly suffering from an overdose on the hyperbole intake, Michael Dell has been getting all lyrical about Dell's new ideas, unveiled at CES 2006.
On a dedicated CES site loaded with the kind of preposterous guff that would keep Private Eye's Pseuds Corner stocked with stories for months ahead, the bonkers blurb blathers on about 'The power of creation being aligned along elemental paths,' before introducing its new products range.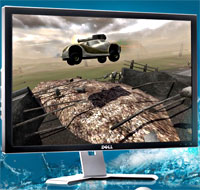 First up is the new Dell XPS 600 Renegade, a powerful, high-end gaming PC described as a (here we go again) 'manifestation of power so pure it can only be described as supernatural.'
Yes, Michael. Whatever you say.
Mind you, the machine looks pretty damn good, with an, err, adventurous fire'n'brimstone finish and a feast of high end components inside, including dual 1GB NVIDIA 7800 SLI graphic cards, Intel dual core 955W CPU over-clocked to 4.25Ghz and 2GB dual channel RAM.
Release is set for Spring, although there's no mention of the no-doubt stratospheric price.
Next up on the site is Dell's new 30″ UltraSharp widescreen monitor, a desirable looking piece of kit, described as being, "as stunning as the vision that inspired it", whatever that means.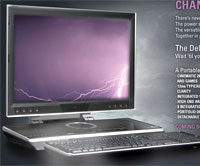 The attractive monitor offers WQXGA resolution (that's 2560×1600 pixels to normal people), fast 11ms grey-to-grey response time, 700:1 contrast ratio and an integrated 9-in-2 memory card reader.
More info here: Dell US
Finally, the site showcases the Dell XPS Mobile Concept, a weird looking laptop-meets-DVD entertainment combo, introduced with a flamboyant salvo of onscreen Hammer Horror lightning strikes.
Billed as 'coming soon', this concept design sports a 20.1″ widescreen display, built in 1.3 megapixel camera, 'high end array microphones' (say what?) and a total of eight integrated speakers and subwoofer.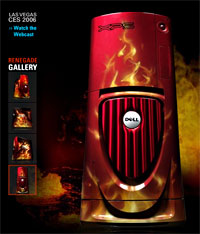 We're not sure what a 'portfolio' design is, but this thing's sure got it, along with 'anodized articulating hinges' and a detachable wireless keyboard and mouse.
"wait 'til you see where it takes you", says the site.
We'd rather wait to see if the laptop gets past the concept stage first, thanks.