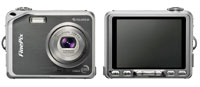 Fujifilm have rolled out their new 5.1 million pixel FinePix V10 Zoom, which they're billing as a "next-generation digital compact camera with distinctive looks and an extra dose of fun."
The "dose of fun" comes in the shape of some retro arcade-style games installed on the camera.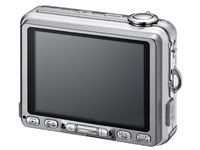 These include a shooting game, blockbuster and a maze puzzle, played via the camera's controls which have been positioned like a console for extra playability.
In a rather nice touch, captured images can also be incorporated into the games, although we've no idea how sophisticated this process will be.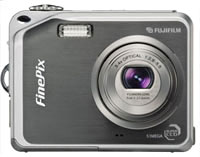 Although we've never felt the urge to play a shoot 'em up on our digital cameras, the rest of the camera seems to shape up pretty well, with the FinePix V10 Zoom sporting a large three inch, 230,000 pixels LCD screen in a pocketable design.
Like its well reviewed near-namesake, the Fujifilm F10, the FinePix V10 Zoom is speedy in operation, with a nippy 0.01 second shutter lag and a 1.5 second start-up time.
Optics come in the form of a reasonably fast (F2.8 – F5.5) 3.4x optical zoom, giving a zoom range comparable to 38 – 130mm on a 35mm camera, and there's VGA movie capture mode capable of grabbing 30 frames per second with sound.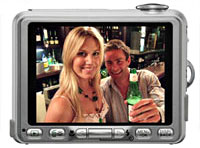 The camera boasts Fujifilm's excellent Super CCD HR sensor, with their Real Photo Technology offering a huge range of sensitivity from ISO64 to ISO1600, making the camera suitable for low light, 'natural' photography.
A novel 'Natural Light & with Flash' mode captures two images in quick succession, with and without flash, letting the user decide which one looks best. We like that idea.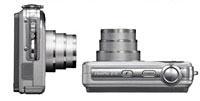 Sadly, Fujifilm are sticking with their rather obscure xD-Picture Card, which means that most photographers switching brands will have to invest in a new memory card format.
Overall, this looks to be an interesting and fun point'n'shoot snapper with the Super CCD HR sensor offering a compelling advantage over many of its rivals.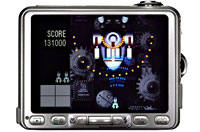 We're not so convinced of the wisdom of bolting on arcade games on to a camera though – not only does it seem an unconvincing example of digital convergence, it's also likely to result in a dead camera battery.
The FinePix V10 Zoom will be available from UK retailers in March 2006, with pricing to be announced nearer to the launch date.