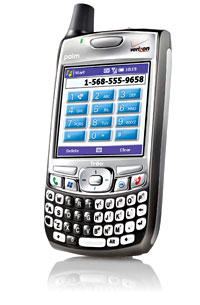 Palm have finally announced the launch of their much anticipated Windows Mobile powered Treo 700w smartphone.
Initially available on the US Verizon Wireless' EV-DO network, this is the first of the hugely successful range of Treo smartphones to run on the Microsoft Windows Mobile operating system.
Looking similar to the widely-appreciated Palm OS Treo product range, the Treo 700w runs Windows Mobile 5.0 Pocket PC Phone Edition on a 312 MHz Intel XScale PXA 27x processor, with 128 MB (60 MB user accessible) non-volatile storage memory.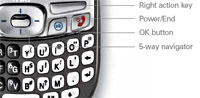 The transition to Windows has, however, seen the TFT screen resolution shrink from Palm's 320 x 320 pixels to a more miserly 240 x 240 pixels (the same as the Treo-alike HP iPAQ hw6500 series). Early reports suggest that the screen is somewhat washed out compared to the current Palm Treo 650.
The Treo 700w comes with its familiar QWERTY thumb keypad with backlighting, a SDIO expansion slot, built-in Bluetooth 1.2 and 1.3-megapixel camera with video capture.
Notably, the Windows Treo is compatible with SDIO Wi-Fi cards (although we would have preferred built in Wi-Fi), something that the Palm OS Treo failed to deliver on (despite emphatic promises to the contrary at their product launch).
The device is designed for 800/1900MHz CDMA EV-DO (Evolution Data Optimized) networks, and measures up a pocketable 58 x 113 x 23 mm, and weighs 180 grams.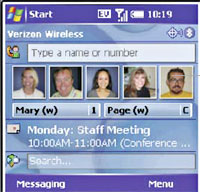 The removable battery gives up to 4.7 hours of talk time or up to 15 days of standby.
"Customers have long been asking for a Palm Treo smartphone on the Windows platform, and we're thrilled to say it's here on the Verizon Wireless network," said Ed Colligan, president and chief executive officer of Palm, Inc.
"The Treo 700w smartphone is powerful, flexible and easy to use, while also being enterprise grade right out of the box," he added.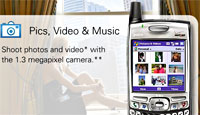 If Palm have successfully managed the transition to the Windows platform, we can expect this new smartphone to be a winner, although we do wonder what long-term impact it may have on their Palm OS range.
There's no news about a UK release yet, but details for US deals can be found at the Palm Website.