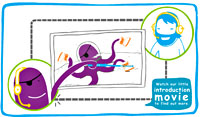 Eastman Kodak and Skype have announced the "latest innovation in digital storytelling", Kodak Photo Voice, a new free online service that combines live voice and online photo sharing.
The Kodak Photo Voice service lets Internet viewers simultaneously view a customised slideshow online and chat away to each other at the same time – making it harder for people trying to avoid sitting through their friend's awful holiday snaps.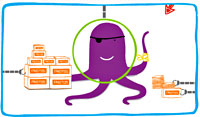 "Today's families and social networks are scattered around the globe. Staying connected through photo sharing remains an important element in maintaining closer personal relationships," said Sandra Morris, general manager of Consumer Imaging Services at Kodak.
Morris noted that traditional social gatherings that used to take place around the radio, television or telephone are now taking place around the computer, mobile phone or camera.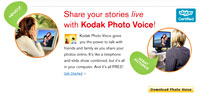 Once a user has downloaded Kodak Photo Voice and Skype, they can select photos from a Kodak Easyshare Gallery album or from their computer, compile them into a Kodak Photo Voice presentation and "call" a friend over Skype to watch the slideshow live.
If their friend likes some of the photos, the host can order prints and other merchandise via the Kodak Gallery and have them mailed directly to their friend's home.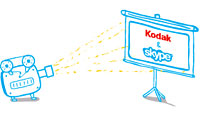 Currently in live beta, the KODAK Photo Voice is the first Skype certified "online photo sharing experience" (we're currently enjoying a "live coffee drinking experience", btw) and is available as a free download at kodakgallery.com/photovoice.
As the curious talking octopus on the homepage explains, the service is absolutely free.