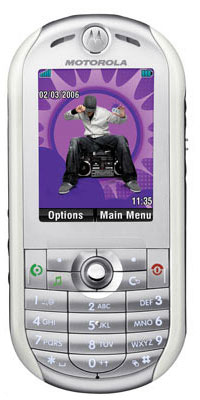 Motorola says adieu to Apple and bonjour to Linux as it unveiled its shiny new ROKR E2 phone at the Consumer Electronics Show today.
Adding unlimited song support, a VGA camera and a web browser, the new phone fixes many of the well documented problems of the ROKR E1, the first iTunes phone, jettisoning Apple in the process.
The new phone looks pretty similar to the original E1 phone, but offers several notable improvements including nippy USB 2.0 song transfer rates compared to the sluggish USB 1.1 of its predecessor and the removal of the artificial 100-song limit, with the Secure Digital slot supporting memory cards up to 2 GB.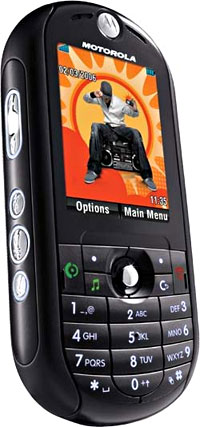 Running on a new Linux-based operating system, the Motorola ROKR E2 also includes a high-res 320×240 screen, a 1.3 megapixel camera with video recording, a built-in FM radio, Opera Web browser Bluetooth (supporting wireless music streaming to stereo Bluetooth headphones), and joy-of-joys – a standard 3.5mm stereo headphone jack and not one of those ruddy annoying mini sockets that are incompatible with normal headphones.
Competing directly with the likes of the Sony Ericsson W600i and Samsung MM-A900, the new E2 lets users create and manage playlists on the device itself and offers dedicated music control keys placed on the front and side of the handset.
The phone can play "a variety" of music formats (no more info yet), with drag and drop song transfer from PCs.
Motorola's decision to shun iTunes certainly represents a gamble. The tight integration with Apple's jukebox service gave the phone a huge lead over its rivals, but Motorola's well documented tiffs with Apple look to have permanently soured the relationship.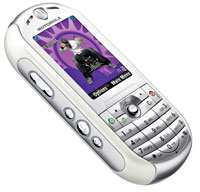 In the absence of iTunes, Motorola intends to push their iRadio Music Service, a subscription music service that uses mobile handsets as the base platform.
The company announced the music service at CES yesterday, with an offering of 435 commercial-free radio channels, which Motorola claims is one of the widest selections of subscription music entertainment available.
Available in black or white, the Motorola ROKR E2 is expected to emerge in mid-2006 with "mid-tier" pricing.