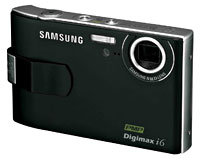 With consumers being less enamoured with ever bigger megapixel ratings, some camera manufacturers are looking to ramp up the feature list, while getting all Lilliputian with the form factor.
Bright and shiny for 2006 is Samsung's new super-slim 6 megapixel camera, the Digimax i6, offering a 3x optical zoom, 2.5-inch LCD and 'PMP' (personal media player) functionality.
Boldly claiming to be the "world's first PMP slim camera", the Digimax can play back MP3 music files and also video files, using the conversion software supplied with the camera.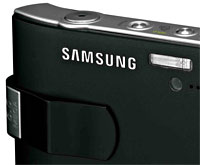 Unlike some of the half-arsed hybrid MP3 cameras we've seen, the Samsung lets the user take pictures whilst listening to music. We can't think why you'd actually want to do that, but I'm sure some will find it useful.
In line with its slim billing, the camera measures in at a pocket-untroubling 18.5mm thick, with the casing sporting an 'enhanced' grip with an unusual curved design designed to make it easy to keep a grip on the thing.
Like Sony's similarly proportioned Cyber-shot DSC-T9, the i6 sports an anti-shake widget, called ASR (Advanced Shake Reduction) which claims to reduce the effects of camera shake and helps snappers take natural pictures indoors or in dark conditions without flash.
There's also movie editing functionality included, a 1cm super-macro mode, and a cradle for charging and image transfer.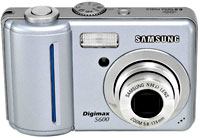 Samsung will also launching three new models in their budget, point'n'shoot 'S' series offering 5, 6 and 8 megapixels, 3x optical zoom, video (MPEG4, VGA, 30fps) and a large TFT LCD (2.4 inch).
The S-500, S-600 and S-800 – and the Digicam i6 – are expected to hit the market in early 2006, with pricing to be announced.