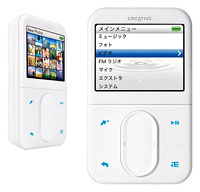 Creative Zen Vision:M
Although looking like a near-exact copy of the video iPod, the 30 gig Zen Vision is a fine player in its own right, sporting persuasive features not found on its rival.
Sharing near-identical physical dimensions as the iPod, the Zen manages to add a composite video out connector for playing video content on TVs, an integrated FM radio with 32 presets, voice recording, alarm clock, groovy customisable themes and the ability to synchronise Microsoft Outlook data, such as contacts, calendar and tasks.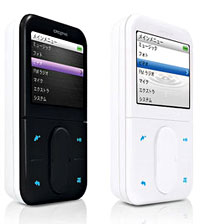 The player's a versatile chap too, with the Vision:M outgunning the iPod by supporting a wider range of formats, like MP3, WMA and PlaysForSure audio formats and MPEG1/2/4, DivX and XviD, Motion JPEG and WMV for video.
Battery life is claimed at four hours in video-playback mode (twice as long as the iPod) and fourteen hours for audio.
Expected on the streets now, the Creative Zen Vision:M will sell for around $350 (~£197, ~€291).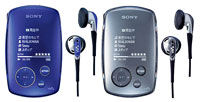 Sony NW-A1000
It's taken Sony a long time to come up with a serious challenge to iPod's dominance, but the new NW-A1000 could be the one to unseat the Nano.
Resplendent in an unusual organic form factor, the player sports a translucent acrylic clad exterior that reveals a large, bright display lurking below. It looks fantastic, and it's refreshing to see a radical new design coming through in a market dominated by iPod-alikes.

The palm sized player (88 x 55 x 19 mm) comes with a built in 6GB hard drive and supports MP3 files as well as Sony's ATRAC3 and ATRAC3+ audio formats. Battery life is claimed at 20 hours (although several reviews have found that figure to be wildly optimistic).
Thankfully, Sony have finally ditched the awful Sonic Stage software needed to transfer files over the USB 2.0 connection, but the new Connect Player software still has some way to go to match the simplicity and ease of use of iTunes.
The player's already available in Europe and North America, priced around €250 and $250.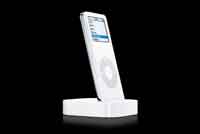 Apple iPod Nano
Introduced in September, Apple's fabulously designed iPod Nano has already proved an enormous hit, with its teensy-weensy dimensions and stunning looks crushing every flash-based player in sight.
Sure, it's not perfect – there's no video support and the thing scratches easier than a Shakin' Stevens 45 – but it features Apple's superb Click Wheel user interface and offers a crisp 1.5″ colour screen for viewing photos.
Coming in 2GB and 4GB flavours, the diminutive player (3.3 x 0.98 x 0.33 inches) supports MP3, AAC and Audible 2, 3 and 4 formats and is compatible with the iTunes online store.
Microsoft Outlook calendar and contacts info can be synchronised via iTunes 5, and with the player sporting the same 30-pin dock connector as the iPod and iPod mini, there should be no shortage of accessories.
There's a nippy USB 2.0 port onboard and battery life is claimed at a healthy 14 hours.
Starting at €200 (~$240 ~£135), the Nano is available in just black or white for now.