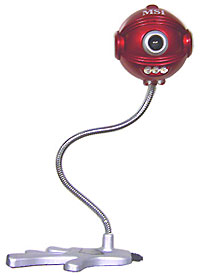 When we saw MSI's feature packed StarCam 370i knocking out for a mere £15 online ($26, €22), we thought it would make an ideal replacement for our elderly (and somewhat battle-weary) Sony cam, currently gazing out over the delights of Brixton.
The camera comes on a long bendy stalk with a metal foot which makes it easy to get the perfect camera angle, although it's clearly not much use if you're looking to hook it on to your laptop screen.
Unusually, the camera comes with two sets of LEDs – the first (activated by a switch on the side of the webcam) turns on three white lights which are strong enough to illuminate the user, and the second produces an infra red beam to allow video chats in low light.
Getting the USB camera up and running was easy enough – just install the software, plug in and go.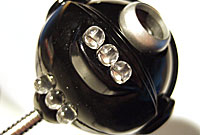 A rudimentary software control panel lets users fiddle about with image/video parameters (gamma, brightness, contrast etc), and budding Jean-Luc Godard's can select the black and white option for arty scenes.
Video rates can be set from a default 15 fps right up to 640×480 at 30fps. Image quality was fairly smooth, apart from small wobbling horizontal lines which constantly flickered all over the display.
The stills camera lets users capture images from VGA (640 x 480), interpolating up to SXGA (1280 x 1024) with the quality best being described as adequate.
Sadly, the horizontal interference remained our constant companion throughout the review and we soon discovered that placing the capture switch on the actual cam itself, also increased the chance of camera shake.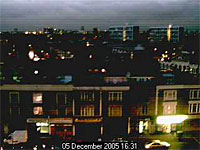 The cam also features a built in microphone which was, as you might expect, fairly basic and lo-fi, but good enough for Internet calls.
We initially tested the camera on our Webcam but quickly realised its limitations, with the software proving incapable of handling major changes in lighting.
Setting the camera to 'auto' meant that images would start off perfectly exposed at the start of the day but as conditions changed, we'd often be left with wildly under/over exposed images.
It was all the more frustrating because the actual image quality (horizontal lines notwithstanding) was significantly better than our Sony device, but as such we can't recommend the StarCam as an unattended Webcam.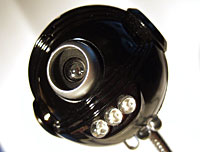 We can, however, recommend it for anyone looking for a basic, cheap as chips Webcam for video chats with friends and relatives.
The built-in lights and infrared features aren't particularly compelling, but they contribute to a fun Webcam package that helps the camera stand out from the pack.
Features:7/10
Ease of use: 7/10
Stills quality: 3/10
Video quality: 5/10
Value for money: 8/10
Overall: 72%

Specifications
Camera Lens 1/4″ CMOS sensor 5G Glass Lens
Pixel VGA Format 640×480
Resolution 640×480, 352×288, 320×240, 176×144, 160×120
Frame per sec Up to 30fbs@(640×480)
Capture Resolution Up to 640×480 (interpolated 1280×1024)
Focus Distance 3cm~infinity
Operation System Windows98/2000/Me/XP