All too often articles about the things teenagers are interested in are written by people old enough to be their parents. Teenage thinking isn't represented. Lawrence Dudley gives you a point of view that you won't find in other publications. You see, Lawrence is a teenager.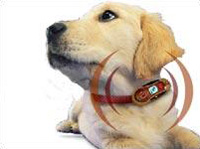 Woof … I mean, Hello?
There's loads of relatively serious articles on media and technology all over the Internet nowadays. This isn't one of them.
Mobile phones are reaching into all sorts of new markets, often, not just reaching but forcing, with operators seemingly desperate to reap more profits. There's the mobile for kids, the Firefly, and the mobile phone controlled kettle.
Of course, this can't possibly be enough… and come on, the dog feels left out when you go to Carphone Warehouse and there isn't a Carphone Kennel to match. The answer to this is, of course, the PetCell.
Come on, admit it: When your dog is late, possibly because it is busy peeing against a tree somewhere, don't you wish that you could give it a quick ring to check it's OK? Yeah, didn't think so. Nevertheless it exists, so I guess some overly-pet-protective marketing drone somewhere decided that it was a viable product.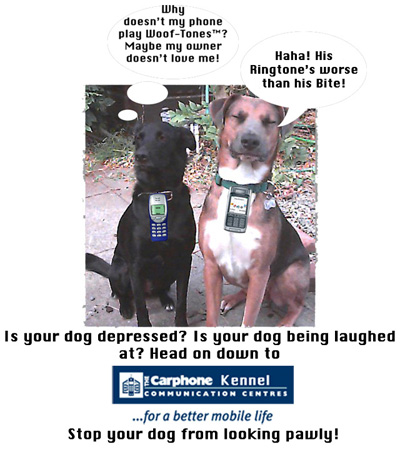 From what I gathered, the device lets you set a fixed area in which your dog is allowed to be. If your dog goes outside this area, the unit sends you a text message. I personally think that this is kind of like shutting the door after the horse (or dog) has bolted.
I mean, you notice your dog's missing, and, look at that, how helpful, your mobile phone confirms it! What a useful bit of technology!
Of course, it only does this while the battery isn't flat or the dog has decided to go for a swim. I'm guessing that it will be marketed as waterproof when it is released in 2006, but as with all "waterproof" devices, I seriously doubt it really is.
I'm guessing that there will be different models too, so that the dogs with the cool phones have something to show off to their mates. The mocked-up image at the top of this piece is what I imagine two cell-phone equipped dogs to act like, shown on an advert for Carphone Kennel.
I'm sorry if I sound a little negative this week, but I am sick of these tacky technologies coming out which serve no particular real-life purpose. And this is coming from someone with a passion for gadgets, don't forget.
I mean, who's really going to call up their dog to find out which lamp post he's peeing on? And I guess those people who would, probably also wouldn't mind paying an outrageous monthly subscription for the service, which is no doubt how the service will be paid for.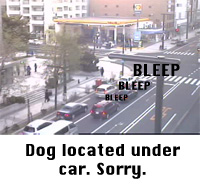 Now if only one of these could be invented that's small enough to be fitted on valuable items like my laptop, or my wallet. Now that would be useful, and save me looking for either of them when they get stolen. And when they do get stolen, I will know where they are and possibly who stole them.
The problem with that, of course, is that this would constitute genuinely useful technology, something which the gadget industry has an extremely bad grasp of.
Shame really.