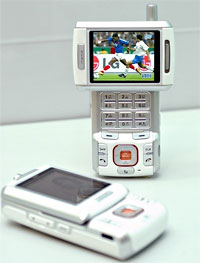 Say hello to the LG SB130-KB1300 handset, a clever-clogs, do-it-all device that can do play and pause live TV as well as deal with every multimedia-type task you can lob at it.
The LG LG-SB130 claims to be the first in the world to be able to pause a live television broadcast playing on its screen so that users could, for example, take an incoming call, and then pick up where they left off once the call is finished.
This piece of technical jiggery-pokery is achieved courtesy of LG's 'Time Machine' feature, which can record live TV transmissions to the phone's 80Mb internal flash memory.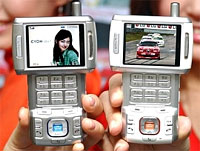 This memory can apparently fit up to an hour's worth of broadcasting before it starts writing over the oldest bits with new content.
The all-in-one device (also known as the KB1300 ) can also can play back video (DMB), play back music (MP3) and snap two megapixel pictures courtesy of its built in AutoFocus camera.
But no amount of technical prowess and enthusiastic grinning from obliging Korean models can detract from the fact that's the phone's a bit of an ugly fella.
Looking like a mutant Transformer, you half expect the thing to cunningly fold up into a robot shape, but there is a method to its madness, with the oddball swivelling screen making it ideal for holding the phone and watching TV.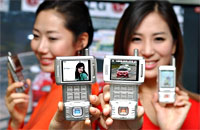 The aerial's a bit of a beefy affair too, but we doubt if the geeky market the phone's aimed at are going to mind.
Naturally, we've haven't the faintest idea when – or even if – this weird looking gizmo is ever going to be released in Europe, but we definitely like the idea of watching – and pausing – live TV on the go.
Babelfish afficiandos can find out more about the phone at LG's Korean site.