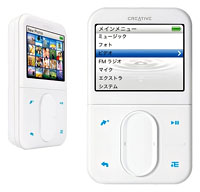 Creative are set to take on Apple's video-enabled fifth-generation iPod with their new Zen Vision:M player, due to be announced tomorrow.
Christened the Zen Vision:M, the new player packs a 30GB hard drive and a large 2.5in, 262k-colour, 320 x 240 LCD into its diminutive 10.4 x 6.2 x 1.9cm proportions.
The Vision:M can play back MPEG 1, 2 and 4, WMV 9, Motion JPEG, DivX 4 and 5 and XviD video files, and display photos saved in the JPEG format only (so tough luck to RAW photographers looking for a handy all-in-one storage device.)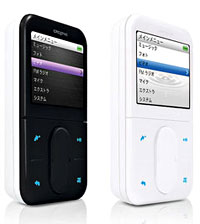 Creative claim that the rechargeable battery can keep punters entertained for four hours in video-playback mode – twice as long as the iPod's two hours.
Music formats supported include MP3, WMA with DRM and WAV and there's a handy built in recordable. Creative claim music can be played back for fourteen hours on a single charge.
The attractive looking unit weighs in at 166g, 30g more than the 30GB iPod's 136g and share similar proportions (and design) – although the Zen is substantially deeper than the iPod.
The Vision:M sports a slim connector which suggests that there's a raft of compatible accessories on the horizon, both from Creative and third parties.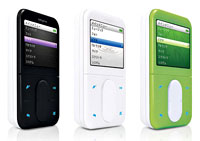 It's a shame seeing a company as, err, creative as Creative coming up with a design so obviously 'inspired' by the iPod, but perhaps it's a sign that they're signing up to a philosophy of, "if you can't beat them, join them."
The Vision:M goes on sale in Japan in mid-December for about a trillion Yen (well, OK, 39,800) which converts into a reasonable £190 ($329, €280) and it'll be available in not-at-all-copying-iPod pure white, definitely-not-Nano-esque black and a rather jaunty green which we like best. It launches in London tomorrow.