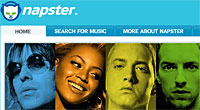 US analyst firm JupiterResearch has surveyed the American digital music market, and discovered that the bulk of paying downloaders come from the 25-44 age group.
The survey found that sixty-two percent of digital service users and 60 percent of subscribers are between the ages of 25 and 44.
More than half of the subscribers are women, but it's the blokes who are predictably hitting the download button most, fuelled by a crazed desire to compulsively fill up their MP3 players.
JupiterResearch describes both types of buyers as coming from "music aficionados" segment – they're the 13 percent of online adults who are "digitally active" and already spend a lot on music.
Online music buyers were found to still discover new music through traditional means, like radio shows and music videos shown on TV, with recommendations (both in stores and online) having an impact.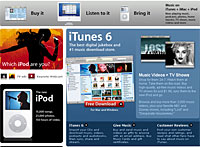 Online radio was seen to be a growing influence as were new tools like playlists and music blogs, but the report found that stronger integration with online radio and more promotion was necessary to make punters aware of these potentially powerful discovery tools.
Although still a minor earner in overall US entertainment expenditure, growth in the digital music market is explosive.
Spending on downloads and subscription services is expected to double in 2005, surpassing $750 million, with 20 million US music fans on course to buy digital downloads this year—mostly from Apple's iTunes store.
But it's not all smiles in the industry, with JupiterResearch's European Music Consumer Survey warning that the music industry may be facing an unsure future with three times as many consumers using illegal file-sharing networks in preference to legitimate services.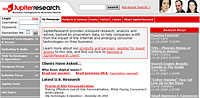 The report blames non credit card-holding kids, claiming that 34 per cent of 15-24-year olds use file-sharing services, and this is "impacting the way they value music with many having little concept of music as a paid commodity."
JupiterResearch claims that Da Kidz see CDs as irrelevant, crap value for money and so prefer to copy rather than buy CDs.
With a wagging finger, Jupiter Research warned the industry, "Unless these consumers are encouraged to develop music purchasing behaviour soon they may never develop meaningful music buying habits,"