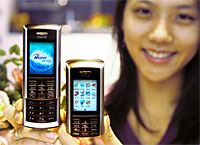 With a passion for creating new phones that is beginning to border on pathological, Samsung's overworked designers have just revealed yet another new hi-tech handset, the SPH-V6800.
Revealed to the world by an obligingly smiling model, the SPH-V6800 looks to be a very tasty number indeed, offering a ton of multimedia functionality, a pocketable form factor and built in Wi-Fi.
Sporting a familiar sliding keyboard design, the black and silver handset is dominated by a bright 320×240 pixel QVGA TFT display, packed into a two inch display.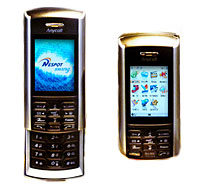 There's also a 1.3MP digital camera onboard with MPEG-4 video recording and MP3/AAC audio playback.
There's also voice recognition built in, video-on-demand, TV-output, EV-DO, and the bit we really like, the built-in Wi-Fi wireless (802.11b, 11Mbps) LAN.
We used a Wi-Fi card with our chunky i-Mate JAM phone extensively on our travels to New York, and loved being able to send off email and surf the web on the move.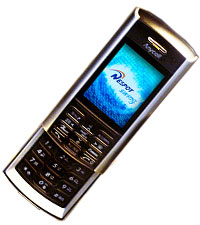 With the Samsung packing in wireless connectivity into its tiny 96.8 x 47 x 24.5mm dimensions, we could well be seduced by SPH-V6800 (if it ever makes it to these shores, of course).
The SPH-V6800 will be made available to Korean subscribers for around $477 (~£275 ~€402) and ambitious readers can try and make sense of the press release page in Korean here (we gamely ran it through babelfish, but the results sounded like an acid casualty reading a tech manual).