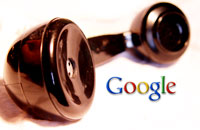 Google is testing a potentially lucrative sales tool that allows users to ring up advertisers located through a Google search – for free.
The system adds a new phone icon next to the Google search results of participating advertisers.
Users wishing to have a chinwag with the advertiser can click the phone graphic, enter their phone number and then click the 'Connect For Free' button.
Google then calls the number provided and when a user picks up their phone they'll hear it ringing the advertiser's office.
Once the advertiser picks up, both parties can chat for free with Google footing the bill for all calls – local and long-distance (their generosity may, however, stop at paying for some mobile calls).
Naturally, there are all sorts of potential privacy concerns brewing up here, but Google insist that they won't share telephone numbers with anyone – including the advertiser.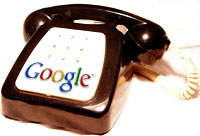 Moreover, they claim that the number will be blocked from the advertiser during the call, with Google promising to delete the number from their servers after a short period of time.
This looks to be an attractive option, making it easier for both businesses to be contacted and for customers to get in touch.
It also means that Google could entice cash from companies with little or no Web presence, with the prospect of free calls from potential customers proving irresistible.
We also wonder if an extended scheme could put a spoke in the wheels of the recently announced eBay buys Skype deal.
As ever, Google are keeping Mum about the details, only offering a curt, "we don't have any additional information to share at this time" in a statement.