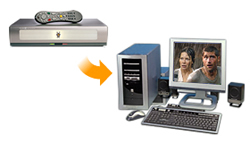 As we predicted last week, the US TV networks are not taking the new TiVo enhancements to its TivoToGo lying down.
NBC are making the early running, with a spokesman telling the Hollywood's Daily Variety trade paper, "TiVo appears to be acting unilaterally, disregarding established rights of content owners to participate in decisions regarding the distribution and exploitation of their content. This unilateral action creates the risk of legal conflict instead of contributing to the constructive exploitation of digital technology that can rapidly provide new and exciting experiences for the consumer."
Legal types though, are quoting the landmark Sony v. Universal Studios case of 1984, citing it as a precedent where time shifting was expressly found to fall within fair use. Although this particular case has come under the microscope recently, during the Grockster case, where the the US Supreme Court ruled that companies could be liable if they deliberately encourage customers to infringe on copyrights.

It could be, that time will prove TiVo have announced prematurely this new augmentation, without fully taking account of the wide ranging business and legal implications. But in this fast moving sector, innovation is a necessity rather than an option.