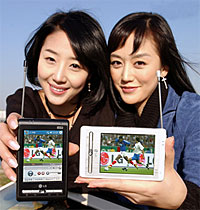 LG Electronics' PR department clearly don't believe in a day of rest because Sunday saw them busily announcing the impending release of their LG PM 80, a PDA capable of receiving T-DMB (terrestrial digital multimedia broadcasting).
The pocket-swelling, man-sized device sports a large 3.5inch QVGA LCD screen, with a claimed battery life of up to 2.5 hours of continuous viewing (fine for watching the match, but you might get unstuck if the final goes to extra time followed by penalties).
T-DMB has been described as a "promising cross between telecom and broadcasting, enabling people to enjoy crystal-clear video, CD-quality audio and data on the move via mobile handsets", and LG is claiming that it'll work just dandy on the move, saying that the PM 80 could provide stable reception at speeds over 100km/h.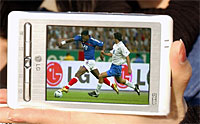 The actual device, presented here in the traditional manner by near-ecstatic Korean ladies (if only we got so much unbridled joy from our gadgets) follows the traditional PDA form factor, with the addition of an old-school pull out aerial for TV reception.
Users can control the channels and volume via a "5 way key" and tune into DMB with a click of DMB/PDA key.
There's 64mb RAM and 64mb ROM internal memory onboard with a SD slot for expansion.
Powered by an Intel Bulverde 312MHz processor running MS Pocket PC 2003 OS, the PM 80 can connect to a PC, allowing users to manage their e-mail lists, schedules or phone book.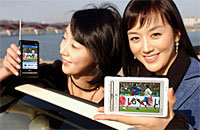 As ever, the Koreans will get to play with this device for ages before we even get a peek at it – if they don't decide to keep it to themselves for ever, of course.
And then there's the usual compatibility problems, the lack of available spectrum in the UK, our 'Luddite' approach to the technology…[moan]….[grumble]…