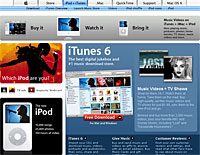 Apple's iTunes online store has been ranked the seventh-largest music retailer in the US in the third quarter, charging into the top 10 for the first time.
According to research from the NPD Group, iTunes Music Store has climbed from fourteenth place last year to overtake many US High Street music stores.
Based on the number of songs sold, Wal-Mart, Best Buy, Target and Amazon.com remained the top four, although iTunes rising star is expected to overtake more stores by the end of the year.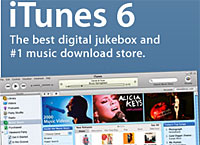 Already eating iTunes' dust are big names like Tower Records and Borders, reflecting music fans' growing passion for online music.
"With the growing interest in digital music, forecasts of more iPod demand this holiday, plus the stocking-stuffer appeal of iTunes gift cards, we can expect Apple to increase its share even more by year's end," predicted Russ Crupnick, music and movies industry analyst for the NPD Group in the report.
Launched in April 2003 to offer downloadable tracks to users of its best-selling iPod digital music player, Apple has sold more than 600 million songs, with the service boasting more than 10 million iTunes account holders.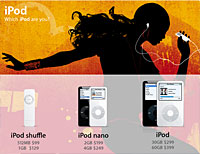 Combined revenue from the iPod, Apple's fastest- selling product, and iTunes music accounted for a massive 40 percent of sales last quarter, up from 27 percent a year earlier.
Steve Jobs has confirmed that Apple have already shifted over 30 million iPods since the product launched in 2001.