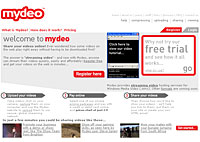 Mydeo, the UK consumer video streaming company, has teamed up with UK ISP Tiscali to offer streaming video sharing services to broadband users of the UK Tiscali Website.
Available within the Community, Members and Technology areas of the Tiscali.co.uk site, the co-branded service will let users add home videos to their Websites, blogs or personal Webspace areas, and send streaming video emails.
'Streaming is perfect for sharing home videos on the web because it allows users to show people their videos without giving the files away. Downloading not only means waiting to watch but, for the publisher, it also means you lose control of your content,' enthused Cary Marsh, Managing Director and Co-Founder of Mydeo.
'We know how important this is to our members sharing personal and family videos,' Marsh added, earnestly.
The accent is definitely 'family videos' here. Unlike some of the other services that have sprung up since Mydeo first started, the video on it are definitely on the respectable side. It's the sort of place you'd be happy to point your family to without them seeing anatomy shots or someone having their head cut off.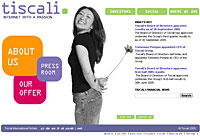 Members will be able to stream their cinematic masterpieces on a pay-as-you-go basis, and will only have to shell out when they choose to upload a video. Users can pay in Euros, UK Pounds or US Dollars.
Once on the server, members can blast out their captivating home videos in customised video emails to lucky recipients.
We've learnt that the deal with Tiscali is a one-way exclusive, i.e. Tiscali can't use another video sharing services, but Mydeo can work with other ISPs. It's our understand that Mydeo are in discussion with other broadband ISPs, who we're told are showing a lot of interest in carrying the service.
'We are very pleased to be able to bring such an exciting and innovative service to our users. Streaming video and broadband are a natural fit,' purred a deeply chuffed Alex Hole, commercial director of Tiscali UK.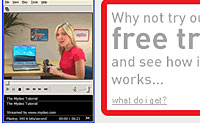 "Mydeo is really easy to use and offers lots of help and support for our members who may be putting video on the Web for the first time," Hole insisted.
With the Mydeo service already integrated into the popular Windows Movie Maker 2 package, the process of uploading videos should be fairly straightforward for Windows XP users.
Mydeo are the only European supplier of streaming services to Microsoft Windows Movie Maker 2.
The company claims that their service lets the "humble home video maker" enjoy the "quality and reliability of a world-leading streaming network, something they would never have been able to purchase as an individual."