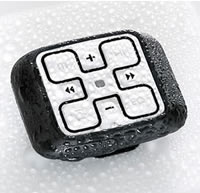 One of our Digital-Lifestyles favorite digital media entrepreneur Swede, Jens Nylander has extracted himself from recent problems and brought out a new mp3 player called MP-X.
You want firsts? Well, it's the first all-weather mp3 player. A smart selling point in damp areas like much of Northern Europe, especially in Sweden, where their public weather monitor say that more than half of their days over the last 30 years have had an average of 0.1mm of rain or more.
Aimed at fit-types, another good move given the amount of outdoor fans there are in Sweden, it's made of soft and durable urethane rubber which repels all of that sweating and doesn't get knocked around.
Two versions are available. It comes in 512 Mb and 1 Gb versions (150 or 300 songs), only weighing the equivalent of six A4-pages of paper and cost €68 (~£46, ~$79) or €85 (~£57, ~$99) respectively excluding sales tax.
As with previous Jens players it supports MP3, WMA, ASF, OGG-Vorbis music files.
We're glad to see Jens back on his feet, following his bankruptcy after a miscalculation of import duty (they should have paid 10% because of built-in FM radio, not the 2.5% they'd calculated at). They tell us that all of the debts have now been met and the $25k that they still owe to the post office will be made up through new trade.