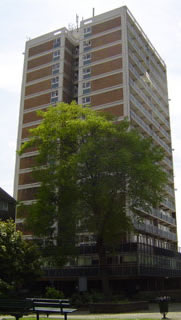 A project starting early next year in East London hopes to bridge the digital divide by broadband-enabling a number of housing estates.
The first stage of the Shoreditch Digital Bridge (SDB) will link-up 1,000 tenants of the Haberdasher and Charles Square Estates, Shoreditch before rolling out to the remaining 20,000 residents. Video Networks, who are best known for the broadband and IPTV service Homechoice, will be providing the connectivity.
Shoreditch/Old Street/Hoxton is a highly mixed area. It's probably best known as a hip and cool area, mocked by some, celebrated by others and the source of the now-self parody Hoxton Fin haircut (pictured below). The flip side is deprivation. The apparent contrast makes sense. Artists moved into the area _because_ it was run down and the space they needed to paint in was cheap to rent, then over a ten year period it changed into a 'destination.'

Happily, this project is focused on the original residents, not the ones who live in the £1/2m flats – sorry, apartments.
The functions available to the residents will be wide and ambitious.
The Education Channel will provide online learning, allowing students to submit homework assignments and work with virtual tutors. When this was used in Kingston upon Hull by KIT working with Kingswood school, it was a huge success.
One key part of closing the digital divide is the provision of a PC on TV, which will be operated adding a wireless keyboard using software such as Citrix. When we spoke to Homechoice about it, they told us this will be able to used with their current Set Top Box.
Interestingly, residents will be able to watch the CCTV cameras around the area – something that for years 'the powers that be' have said would never occur.

Additional services include a Health channel allowing patients to book GP appointments, provide virtual consultations and on-line health and diagnosis information; a Consumer Channel, allowing on-line group buying of common services such as gas, electricity and mobile phone tariffs; and an Employment Channel, providing on-line NVQ courses, local jobs Websites and virtual interview mentoring.
Satellite companies have for a long time had problems providing services to built up urban areas. Providing TV services over a broadband connection has for a long time made sense. The icing on the cake will be the Homechoice IPTV and broadband service, available at an additional charge.
We hope the SDB project will build on succeeded and lessons learned of previous pioneering work will be integrated.
The Shoreditch Trust
Shoreditch Digital Bridge
Hoxton Fin image courtesy of LondonCircus
Charles Square Image courtesy of Hackney Council