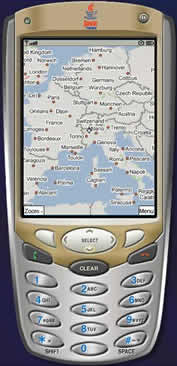 For those who have better thing to do with their lives than fanatically watch every twist and turn of online technology, or if you're living outside the US of A, you may well not have been using Google's recently launched Google Local For Mobile (GLM)- or even have heard of it.
Here's the heads-up – it's a service that runs through a downloaded Java application on a number of mobile phones, giving on-the-move mapping, route planning and local information.
As with their browser-based mapping services, you can view either a map, satellite view or a overlaid combination of the two.
Superimposed on this is local business information, currently, but we can see that with Google's penchant for adding advertising to everything, this may be soon added to.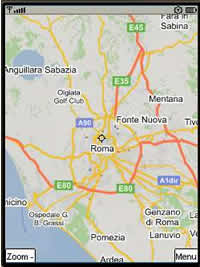 Yesterday we revealed how GLM has GPS hidden inside, but isn't currently enabled and it was while playing around with this, we discovered another interesting undocumented feature.
Google are telling everyone that it just covers the US. Quoting from their FAQ
Does Google Local for mobile work everywhere?
Not yet. Local for mobile is currently available in the US only. We're working to increase its availability as soon as possible.
We found that with a little playing around, you can investigate around Europe and plot routes using the click to select mapping.
So, how do you explore Europe?
Here's how we discovered it, there may be other ways.
Download the app to your mobile using the 'Other' mobile provider option
Select a handset close to your own (we've found that it doesn't need to be your exact handset)
Download and run the app
Shift to satellite view and you'll see the whole of the USA
Scroll right towards Europe
Zoom in to your desired Euro location
Select 2 (Directions) to find route
Use 'Select point on map' to select the starting point, then finishing point
The route will be calculated
Click 3 to start stepping through your route
Have fun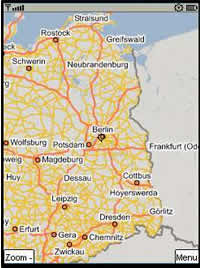 More detail than the browser version
The discovery doesn't end there. After chatting further to Cristian Streng, we now also realise that there's detail on the Mobile version that isn't available via the 'normal' Web-based Google Maps.
To illustrate it, he sent us some screen grabs showing mapping data of Germany that is currently only available in GLM.
If you fancy having a look around too, but want to save the mobile phone data charges, we'll pass on a tip from Cristian. He very sensibly did his investigation using a PC-based Java Virtual Machine rather than spending money on GPRS charges. Smart.
If you didn't know it already, this makes is clear that software is there to play with, and if you do, you may find lots of areas and features that you're officially told aren't there. So, go, explore.