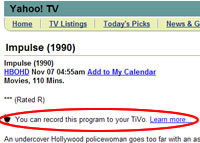 TiVo and Yahoo are linking up to provide a reasonably extensive collaboration.
TiVo Series 2 users will be able to program their TiVo over the Web, from anywhere with an Internet connection. Simply by browsing Yahoo's TV episode page, TiVo users will be able to click on 'Record to my TiVo box' to setup a record. Next time the TiVo connects to receive updates, the Yahoo service will instruct the TiVo to record the program.
Programming your Tivo over the Internet has been possible since the first generation TiVo's, but it required the hardware upgrade of adding a network card inside your TiVo and a small amount of fiddling with software. This deal makes it a simple point and click operation.

We understand that both companies see this as a cross-promotion service, so moines haven't been exchanged. Proof of the promotion for TiVo are see at the bottom of the Yahoo page explaining the service, where non-TiVo owners are given the chance to buy a machine for $49 after rebates.
We'd imagine that the possibilities of a deal between these two companies could be quite substantial, giving Yahoo a direct connection to the living room, something they've had strong desires on for quite a while.
For a long time there have been a number of rumors about TiVo being bought/swollowed up by another, more in fashion (therefore more monied) company.

The programming your Tivo remotely part of the deal mirrors the deal they did with AOL a number of years ago, but as we mentioned, gives Yahoo an output in peoples TV rooms.
After pioneering PVR's along with the now non-existant ReplayTV, TiVo has been slowly slipping from dominance as other players realised that they could achieve pretty much say as they had done. This has been mainly true, excepting the excellent User Interface that TiVo has triumphed with.