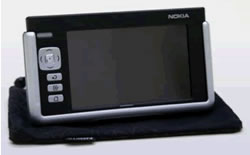 We first reported the news of the existence of the Nokia 770 back in May 2005, when Janne Jormalainen, Vice President of Convergence Products, Multimedia at Nokia showed it to a slightly stunned crowd at LinuxWorld Summit in New York. Now it's shipping.
At the time, we enthused – naturally. How else could we react to a WiFi-powered Web browsing tablet with a 65k colour screen, that gives 3 days of browsing or 7 days of standby? We saw it as the TV watching buddy that we've always wanted. We could finally dump the laptop, removing its leg-heating characteristics at the same time.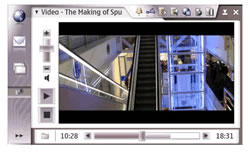 Well today, Nokia are announcing its actual availability and they've expanded its capabilities to enable Web browsing using Bluetooth via your mobile.
We were naturally straight on the phone to Nokia, lining up our review copy. We'd been aware of a version floating around for a while, but knew the release of software it had on it really didn't cut the mustard. Soon, dear reader our impression of it will be revealed.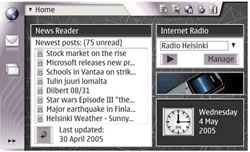 For Linux hackers everywhere, there's the great excitement that the 770 will be running Debian Linux, with the new platform – derived from the Linux GNOME UI – going under the name "maemo". Development on maemo has continued since May and the end of October saw the release of maemo 1.1 Release Candidate 5. They've even given it the fancy new name of Nokia Internet Tablet 2005, if you please.
Nokia are actively encouraging 'Hackers' to produce software for it. They've even got a maemo WiKi (shock, horror).
VoIP was hinted at back in May. It's now been confirmed by our old mate Janne Jormalainen, "During the first half of year 2006 we will launch the next operating system upgrade to support more presence based functionalities such as VoIP and Instant Messaging."
For once with a technology product, Europe will be seeing this little beauty first, with the US having to wait a whole week longer. Prices appear to have shifted a little, upwards sadly, to €350 ($412, £240).