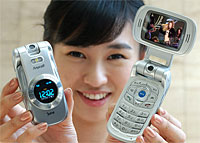 Released today in Korea, the land where they get all the cool gadgets first, Samsung's new SCH V700 handset has the honour of being the first PMP (Portable Media Player) phone in the world.
But before you get really excited and suspect that this PMP gadget will provide a rush of excitement on a par with its near namesake, PCP, allow us to explain:
PMP is just another new marketing tag dreamt up by PR types in a froth of cappuccino to describe a common or garden multimedia handset, i.e. a hard disk/flash memory based gizmo capable of playing back/recording MP3s and video.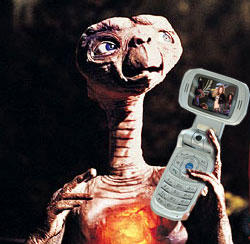 The V700 comes in Samsung's favoured clamshell design with the added twist of a tilting display which lets users rotate the screen 90 degrees to take advantage of a wider display (it looks a bit like ET to us in this position, but maybe we've been overdoing it a bit recently.)
Clad in an unspectacular silver finish, it's not the smallest ot most attractive phone around, but it serves up a reasonably generous 320 x 240 pixels main QVGA display, with a quirky circular LCD fitted on the phone's exterior.
Inside, there's a capacious 200 megabytes of internal memory on offer with additional storage offered by a T-flash card slot.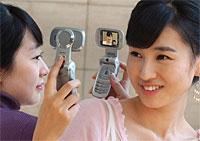 We're impressed with the onboard TV out port which could prive a great way of sharing your photos with chums.
We've no idea when it's likely to be on the streets of the UK, but the price looks like it'll be hovering around the €450 mark (£350, $540).