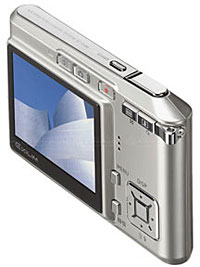 CASIO have announced their new, wafer-thin EXILIM CARD EX-S600 digital camera.
Small enough to slip in your pocket without inviting Mae West quotes, the 16mm thin camera sports a 3X optical zoom (38 – 114mm, F 2.7 – 5.2), with a nippy start up time and super fast 0.007 second release time lag.
Offering a healthy six megapixels resolution, this card-sized diminutive snapper comes with "Anti Shake DSP" which Casio claims can reduce or eliminate blur caused by shaking mitts or moving subjects.
Compared to its predecessor, the EX-500, the camera offers an updated CCD imager, 50% improved battery life, a slightly closer macro focusing distance of 15 centimetres and a new "Revive Shot" feature which attends to the rather obscure needs of people taking digital pictures of old album photos.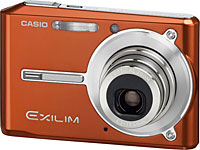 According to Casio's announcement, Revive Shot mode "adjusts for obliquity as well as brightly refreshes faded colours."
Our dictionary says that obliquity means, "the presentation during labour of the head of the foetus at an abnormal angle" and "the quality of being deceptive," so we're not entirely sure what they're on about, but we figure that it just sprinkles a bit of fairy dust over old images and boosts up the colours.
Unlike Pansonic LX1's mechanical Optical Image Stabilisation, the Casio achieves the effect with digital bodgery, automatically bumping up the ISO and thus making faster shutter speeds available (at the expense of more noise.)
The camera offers quick picture playback of approx 0.1 seconds interval on the large 2.2 inch LCD, which Casio claims is "twice as bright as previous models" (good job too as there's no optical viewfinder onboard.)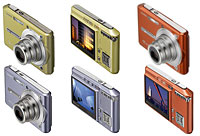 As is de rigeur on consumer compacts, there's a built in movie mode with the Casio capturing MPEG-4, VGA (640×480 pixels) at 30 frames/second.
Battery life is a beefy 300 still pictures or 1 hour and 50 minutes of movie recording per battery charge, with the EX-S600 connecting to a TV or PC via the multi cradle, which also doubles as the battery charger.
As ever, there are enough scene modes (34) on offer to ensure that even an Icelandic daytripper to the Amazon should be able to capture every atmospheric eventuality on the way, although we imagine most people will just go along with the 'auto' option.
Currently only available in Japan and other Asian markets, the EX-S600 comes in a selection of colours, sparkle silver, fiesta orange, mistral blue and luminous gold.