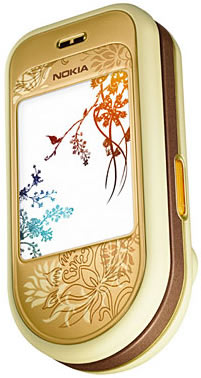 Mobile phone giants Nokia have announced three new phone models aimed at the "style-conscious" market.
The new models, the 7360, 7370 and 7380, are to form part of Nokia's ludicrously named "L'Amour Collection," expected on the market in the first quarter of 2006.
Alastair Curtis, Vice President of Design at Nokia's Mobile Phones division was on hand to trot out the airy-fairy waffle, "For many consumers, the mobile phone has truly become an extension of their personal style – it is a fashion statement as well as an advanced communications device."
Like Laurence Llewelyn-Bowen on steroids, Curtis continued, "Every detail of these products, from the nature-inspired graphics to the velvet-lined pouches, has been carefully considered with the style-conscious individual in mind. We are very confident that consumers who appreciate design and attention to detail will fall in love with the L'Amour Collection."
The PR team were clearly caught up in the general arty-fartiness, trotting out a load of tosh about how the Nokia 7380 was a "reflection of discerning taste", the Nokia 7370 "designed to make heads 'turn' and the Nokia 7360 somehow managing to exhibit "charming, graceful and compact" qualities.
Trying our best to avoid the loud klaxon noise emanating from our nearby BS Detector, here's the phones in more detail:
Nokia 7380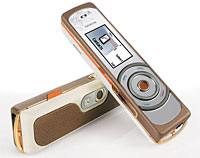 Desperately described as a phone for "trend-setting men and women who enjoy being the centre of attention," the highly distinctive 7380 looks like it's come from the same bonkers design studio as the 7280.
Sporting a keypad-less form and clad in leather with a mirrored display, the slimline fashion phone packs in a 2-megapixel camera with 4x zoom, an MP3 player and intuitive voice dialing.
Fashionistas can expect to fork out around €500 (~£340, ~$600) for the 7380 and should be able to start strutting around and making dramatic mobile fashion statements in Q1, 2006.
Nokia 7370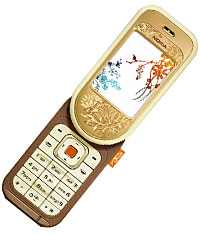 Employing a sliding keypad, the Nokia 7370 comes with a 2-inch QVGA colour screen (320 x 240 pixels), stereo speakers with 3D sound effects and a 1.3 megapixel camera (8x zoom) onboard.
The designers have gone to town on the fascia, emblazoning it with "beautiful patterns, etched into the elegant metal trims" which are contrasted by "leather-inspired faceplates" which, somehow, add a "romantic appeal and an element of the exotic."
To be honest, we'd be a bit worried if we met someone who found their mobile phone romantic, but I guess it takes all sorts.
The Nokia 7370 comes in two colour schemes, coffee brown and warm amber, each with matching graphics and screensavers.
The phone should be knocking out for around €300 and available in Q1, 2006.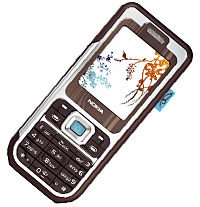 Nokia 7360
Looking somewhat more conventional but still, apparently, a phone for "trend-conscious men and women" (albeit cheapskate ones), the bottom of the range Nokia 7360 comes with an integrated VGA camera, stereo FM radio and MP3 ring tones.
It also sports the same silly 'designer tag' sticking out the side of the phone as the rest of the range, and is available in the two "signature L'Amour Collection colour schemes", i.e. brown and amber.
The phone will cost around €200 and gyrating down the nearest catwalk in Q1, 2006.