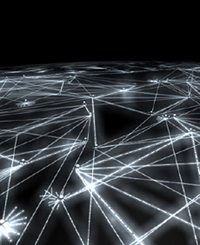 Figures just out from the OECD (Organisation for Economic Co-operation and Development), report 137m broadband subscribers throughout the OECD countries and that's up 18m since the last figures, six months ago.
It's interesting to note that voice and video services are increasingly being provided over these connections.
Korea continues to be top of the list with 25.5 subscribers per 100 inhabitants, with The Netherlands following up close behind with 22.5, mainy due to comprehensive cable penetration.
The strongest growth over the last two reports, ie 12 months has been Finland, the Netherlands, Iceland, Norway and the United Kingdom.
The US is at 12th position (14.5 subs per 100), with the UK sitting one slot lower at 13th (13.5 subs per 100).
Over all of the countries, DSL is still the preferred method (61.2%), cable modems at around half those levels (32%) and what they describe as 'other technologies', ie fibre optics, LAN, satellite and fixed wireless sitting at 6.8%.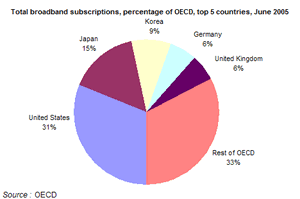 The 'other technologies' have enjoyed the the highest percentage growth in the past six months, growing 13%.
Looking at absolute subscribers numbers, the US is way out in front at 42.6m, followed by Japan (21m); Korea (12m); Germany (8m); UK (8m); France (8m).
Enjoy all of the delicious details at the OECD site