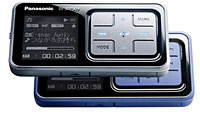 Panasonic has announced a new range of attractive music players with battery lives that make the Duracell bunny look like a fag-smoking sloth in lead boots.
The D-Snap range comes in two designs, each offering two configurations, the SD750V/ SD700V and SD350V/ SD300V (the principal difference being that the higher models offer FM radio and voice recording).
Both use SD carts, which Panasonic are really starting to push hard as we whitnessed at Ceatec in Tokyo, where they were all over their stand. The jury is out as to whether they've left is a little late to have it as an all conquering memory format. Sony have after all been pumping their MemoryStick format for ages.
The top of the range SD750V/ SD700V models boast a touch sliding panel, a 7 line LCD display and a battery life up to an amazing 105 hours.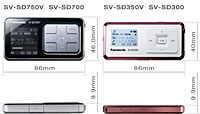 The SD350V/ SD300V models come with a smaller display (5 lines), less fancy navigation buttons and a battery claiming up to 94 hours of SD audio playback.
The devices offer AAC/WMA/MP3 playback, with Panasonic's Japanese Webpage describing the SD memory cards as 'Music Sweets.' Aw.
Seeing as our command of Japanese is on par with our Klingon-speaking abilities we had to rely on Google's translation services and so can tell you that the players come in four colours, and you can choose "the color which the sea urchin you like, please enjoy."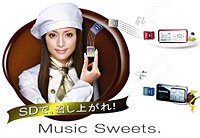 The site also bangs on about Panasonic's "Double drive in side phone" which, apparently, has separate drivers for bass and treble raising, the, err, "shelter density".
And raising shelters can only be a good thing in our book.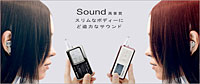 The SV-SD750V/700 measures up at 87.3x46x11mm and 48.4g, while the SV-SD350V/300 is marginally smaller at 87×40.5×10.3mm and 47.9g.
The players look set for a November Japan release, but we've no idea if or when a European or US release is scheduled.