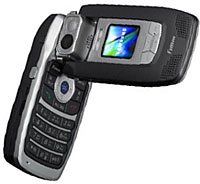 Samsung Electronics have launched the hard-disk-based SPH-V7900 mobile phone, sporting a record-breaking built-in 3GB hard disk drive.
The announcement comes nearly a year after Samsung became the first mobile-phone maker on the planet to release a hard disk drive phone, with the SPH-V5400 going on sale in December, 2004.
The new SPH-V7900 offers twice the capacity of its predecessor, with its hefty 3GB capacity giving enough space for several hundred audio files or a few hours of video and, if you're a popular kind of guy, up to 2,400 contact details.
The SPH-V7900 phone comes stuffed full of the latest techie widgets, sporting two cameras (one with 2-megapixel resolution), dual screens and twin speakers in a twist-flip housing.
The camera offers a 2x optical zoom and TV output socket, with the main TFT LCD screen boasting QVGA (240×320 pixels) resolution.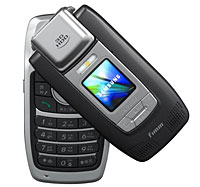 Naturally, there's an MP3/video player onboard, capable of playing several formats including Mpeg4/H.264 video and Mpeg4 AAC, AAC+ and MP3 audio.
Pesky work-based activity is supported with an email client and a file viewer capable of viewing MS Office files, pdf format documents, text and jpeg images.
The whole caboodle measures up at 103x52x27.6mm, weighs 165g with Samsung claiming 4.5 hours of talk and 200 hours standby
Unfortunately, the SPH-V7900 will be a CDMA (Code Division Multiple Access) model and only sold in South Korea, but the company are preparing a hard-drive-based smartphone for the European market.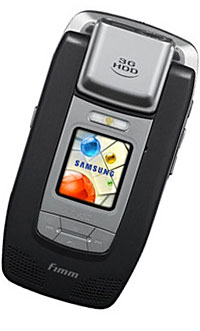 Their SGH-I300 – scheduled for a European November release – will run on the Microsoft's Windows Mobile operating system and also offer a 3GB hard disk drive offering plug-and-play support (so files can be dragged over from your home PC).
Not quite as excitingly specified as its Far Eastern cousin, the phone comes with a 1.3 megapixel digital camera, scroll wheel navigation, Bluetooth and a 240×320 pixels 262k LCD screen.
The tri-band GSM/GPRS (900/1800/1900MHz) phone will also offer MP3, WMA, AAC, and AAC+ audio support, with expansion through a TransFlash memory card slot.
Pricing hasn't been announced.