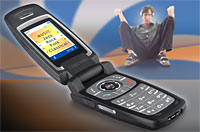 Just like the Smash aliens falling over laughing at the sight of humans mashing potatoes, one day people may look back in amazement that people used to walk around the streets with bits of wire hanging from their lug'oles.
Although Bluetooth headsets are OK for taking calls, what people really want is to be able to wirelessly listen to their sounds as they strut about the streets as well – something that Samsung reckon will be possible with their new SGH-E750 and SGH-E760 handsets.
Both tri-band handsets follow Samsung's well-established clamshell design, with a 1.3 Megapixel camera onboard as well as new functions like a digital compass and gesture recognition for mobile gaming.
The SGH-E750 camera also comes with an integrated flash, with the SGH-E760 including a "digital power amp" and twin speakers for enhanced audio.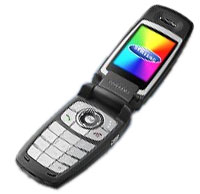 Using CSR's BlueCore3-ROM (BC3-ROM) and proprietary BlueCore Host Software (BCHS) – whatever they are – Samsung's phones can wirelessly stream MP3 music via Bluetooth to the latest Bluetooth stereo headsets, like their very own SBH100.
Apparently, the BlueCore3-ROM thingy is currently the only Bluetooth technology offering native MP3 support, thanks to its internal CODEC, software and DSP.
Samsung say that MP3 music streams offer better audio quality and require lower data transfer rates than the Sub Band Coding (SBC) format used by other Bluetooth silicon vendors.
Just in case you haven't had enough acronyms yet, we can tell you that the handsets employ A2DP (Advanced Audio Distribution Profile) and AVRCP (Audio Visual Remote Control Profile) to support music streaming and hands-free call handling from Bluetooth stereo headsets.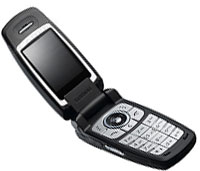 The integrated BlueCore Host Software helps reduce the power consumption of the Bluetooth device by implementing all of the Bluetooth lower power modes such as deep sleep, letting uses take full advantage of all handset features without draining battery life.
Matthew Phillips, VP Asia commented, "GSM accounts for more than 2/3 of the world's mobile telecommunications industry and consumers are increasingly demanding access to the latest developments in technology."
"Listening to music with a wireless headset has always been popular with consumers using proprietary technologies for home cinema. As phones now support MP3 music playback, we have brought that flexibility to the mobile phone industry using the universal Bluetooth standard," he added.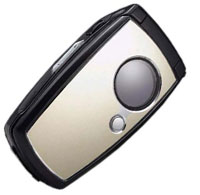 The SGH-E750 and SGH-E760 handsets are expected to be available on GSM networks worldwide in Q4 2005.