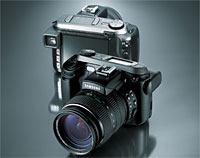 With the corporate might and phenomonal R&D budgets of Nikon and Canon continuing to create cameras that dominate the dSLR (digital Single Lens Reflex) market, smaller brands are discovering the benefits of pooling their resources to produce rival products.
Way back in July, we reported on dSLR makers Minolta teaming up with digital compact kings Sony to jointly develop digital dSLR cameras, and today Samsung have announced a similar deal with Pentax.
Both companies are hoping to share their respective competencies to "enhance competitiveness in the burgeoning digital SLR market," read, Blimey, this markets getting a bit hot, we need scale.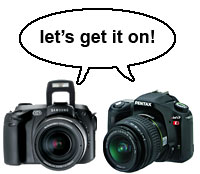 The partnership will draw on Samsung's digital image processing technologies, brand recognition and digital convergence technologies while Pentax can offer an established dSLR brand with a huge range of interchangeable lenses. It can't hurt that Samsung currently are one of the biggest players in LCD screens production.
Pentax already have four well regarded digital SLRs under their belts, while Samsung – who announced their intention to become a "top-class Digital Camera manufacturer" in May 2005 – have enjoyed rapid sales growth with attractive products backed by strong marketing.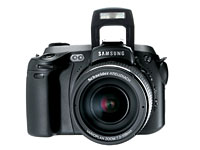 Samsung's recent Pro815, an advanced prosumer compact digital camera, attracted praise for its innovation while Pentax's *ist dSLR range has won many friends, although failing to match the popularity of rival Nikon and Canon products,
Samsung has the No. 1 market share in Korea with a share of around 30% and is one of the fastest growing brands in digital cameras on the planet, with market share doubling in the last year.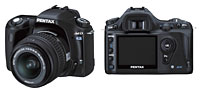 Continued growth is predicted for the world-wide digital camera market, with pundits expecting the tally for 2005 to be around 82 million unit sales, soaring to 89 million in 2006.
Falling prices have contributed to the digital SLR market growth rate exceeding the overall digital camera growth rate, with 2005's expected 4 million unit sales to be surpassed by a predicted 5 million unit sales in 2006.