A new study has revealed that one in five Americans is without home Internet access and have never been online, potentially hindering their access to crucial information and services.
The survey by the non-profit Pew Internet & American Life Project has highlighted the existence of a digital divide running along lines of age, race and income.
American wrinklies are lagging far behind in Internet adoption, with only 26 percent of folks 65 and older going online, compared with 67 percent of the 50 to 64 group.
One in five American adults (22 percent) remain completely untouched by the Internet and have never been online or received an email – roughly the same percentage of the population as in 2002.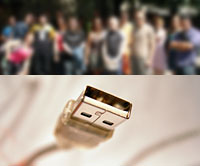 Not surprisingly, the study also found that people with lower incomes and less education also registered lower percentages of Internet adoption.
Although around 70 percent of white Americans use the Internet, only 57 percent of African-Americans are online, with an emerging divide among those who have high-speed "broadband" Internet access and those on cranky old dial up.
The Pew study found that the majority of those using broadband are affluent and well-educated and that 66 percent of households earning $75,000 (~£42,260, ~€61,825) or more annually have a high-speed broadband Internet service at home.
This compares to just 21 percent of households on low incomes ($30,000 a year, ~£16,900, ~€24,730) possessing a high-speed Internet service.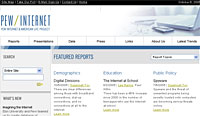 Broadband makes it easier for surfers to whiz around the Web and download music, view videos, enjoy free VoIP calls and access online services and important information on topics like health and finance.
The differences are similar between those who have college degrees and those who have high-school degrees with Susannah Fox, associate director of the Pew project, commenting, "What's starting to emerge … is an elite group of people who are pulling away with what they can do online."
Fox added that businesses and governments should not forget the needs of the unconnected population and ensure that offline sources for health and government material is made available.
The study estimated that 53 percent of Internet users now have a high-speed connection at home, up from 21 percent in 2004, while a separate report last week by Nielsen/NetRatings, estimated that around 42 percent of the US population has broadband Internet service, up from 36 percent in January.