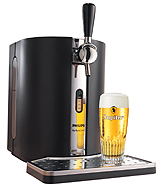 The 2006 world championships draw closer and if you've not yet considered your Christmas gift list, this might be just the thing you were looking for.
The consumer electronics brands Philips and InBev have been considering how to enhance the daily lives of the greater population. Keeping our daily ration of beer at the temperature we love it, is a serious issue. So they've come up the PerfectDraft home-draught beer system.
The system carries a real tap handle and a display that indicates volume and beer temperature. It is designed to keep six litres of a variety of beers fresh for up to 4 weeks at an optimal temperature of 3 degrees C.
OK, six litres sounds low for the daily ration, but at least it's cold.
And whilst those soccer guys show their muscles on television, I don't have to leave the room to get more beers from the fridge. Once again, Philips helps us women to stay out of kitchen.