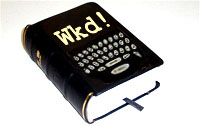 Aussie God squadders looking to get down with Da Yoot have translated all 31,173 verses of the Bible into SMS text-speak.
Although other services have offered daily SMS Bible scriptures in the past, the Bible Society in Australia is claiming to be the first to translate all 31,173 verses of the Bible into text.
Looking, we suspect, like an old uncle in a backwards baseball cap, Bible Society spokesman Michael Chant enthused, "The old days when the Bible was only available within a sombre black cover with a cross on it are long gone.".
"We want to open it up for people of all ages, backgrounds and interests, and the SMS version is a logical extension of that," he added.
Salvation-seeking, Bible-bashing SMS fans can access the translated text over the Internet for free and send individual verses to family or friends via text messaging.
The entire new and old testaments were converted to text in just four weeks by one, clearly obsessively dedicated, individual.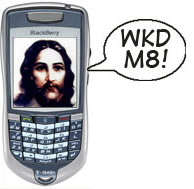 The translations were based on the Contemporary English Version and remained faithful to the grammar, with just the spellings being altered.
Here's some examples:
U, Lord, r my shepherd. I will neva be in need. U let me rest in fields of green grass. U lead me 2 streams of peaceful water. (Psalm 23, verses 1-2).
Wrk hard at wateva u do. U will soon go 2 da wrld of da dead, where no 1 wrks or thinks or reasons or knws NEting. (Ecclesiastes, chapter nine, verse 10).
Respect ur father & ur mother, & u will live a long time in da l& I am givin u. (Exodus, chapter 20, verse 12).
Mr Chant felt confident that the text version would appeal to young people, suggesting that it could also be used to encourage, motivate and reassure people in all sorts of situations, with verses sent out daily 'read like a horoscope.'
"People might want to send a verse to a friend in need, instructors might want to add verses to SMS bulletins to youth club members, or other people might just want to send a daily Bible recording to themselves to meditate on while they're on the bus or having lunch," he said.
An article in The Sydney Morning Herald calculated that sending the entire Bible by SMS would take more than 30,000 messages and cost almost £3,440 ($6.080, €5,050) at 10p for each message. You could buy around 1,500 pints of beer for that. We know what we'd prefer.
Trabsl8it text translation
Sydney Morning Herald
other Bible SMS services