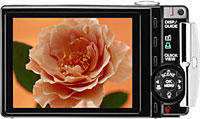 Olympus have unveiled the SP-700, a new addition to their new SP series of cameras with a special guide function for beginners explaining what button does what.
The 6.0 million pixel camera comes with a 3x zoom lens (equivalent to 38-114mm in 35mm format) with the company enthusiastically claiming that it's "the latest gadget to be seen with."
Churning out of the factories in time for Christmas, the SP-700 is aimed at the mainstream market, offering a barrow load of pre-set scene modes to make it easy for fumbling amateurs to take half decent photos.
Amongst the 24 scene modes on offer, punters can chose from presets like Portrait, Landscape, Landscape and Portrait, Night Scene, Sunset, Fireworks and curiously 'Museum'.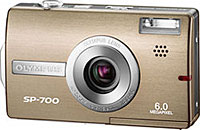 We couldn't find a preset for 'pub' or 'all night rave in a dingy warehouse', but there's an underwater mode included too (just so long as punters remember that they've got to slap on the PT-013 underwater case before dunking their expensive camera into the sea).
The big selling point is the huge 3 inch, 230,000 pixel screen which all but fills up the back of the camera, echoing the trend for bigger camera screens for composing and viewing pictures.
The camera also boasts a movie mode capable of recording VGA clips at 30fps with sound, a movie digital image stabilisation system, 11 MB internal memory and a Super Macro mode able to focus down to a mere 1cm (not recommended if you're zooming in on a Sydney Funnel-Web Spider.)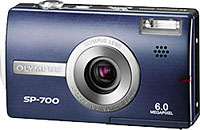 Olympus is making a big hoo-hah about its 'Compare and Shoot' function which lets users check and compare results before re-shooting or adjusting settings if needed.
There's also some basic image editing functions onboard, including red-eye fix, brightness, saturation, trimming, B&W and sepia, letting users fiddle about with photos without the need to hook up to a PC.
The metal-housed camera measures up at a compact a 3.8 x 2.2 x 1-inches and weighs 4.9 ounces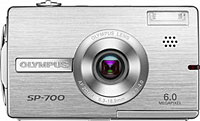 The camera is pitched directly in competition with the Sony DSC-N1 which also offers a whopping great 3″ screen, but the Sony comes with photo 'pocket viewer' functionality which may just prove more attractive to its target audience.
Pricing may prove to be the decisive factor here, so we'll have to wait to see what price tag Olympus slaps on the SP-700.